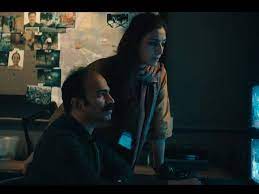 Hindi cinema's iconic duo, Tabu and Vishal Bhardwaj, is set to ignite the screen once again with their upcoming spy thriller, "Khufiya." The much-anticipated film, also featuring Ali Fazal and Wamiqa Gabbi, is all set to premiere exclusively on Netflix India on October 5, promising a suspenseful cinematic experience for viewers.
Netflix India unveiled the release date of "Khufiya" through a cleverly crafted promo posted on Instagram. The promo features Tabu in her spy character, instructing a colleague to zoom in on CCTV footage from what appears to be a covert camera. As the plot thickens, a mysterious character, 'khufiya,' sends a secret message via a fax machine. Upon closer inspection, the fax paper reveals the film's release date: October 5.
The caption accompanying the promo on Netflix India's Instagram account reads, "Kuch raaz, raaz hi rahe to behtar hai" (Some secrets are better left as secrets).
Tabu and Vishal Bhardwaj have shared a remarkable onscreen partnership spanning over two decades. Their collaboration began with the 2003 gangster drama "Maqbool," in which Tabu starred opposite the late Irrfan Khan. Their partnership continued in the 2014 crime drama "Haider," where Tabu portrayed the role of Haider's mother. These films, both adaptations of William Shakespeare's classic plays, Macbeth and Hamlet, respectively, garnered critical acclaim for their performances.
In addition to Vishal Bhardwaj's directorial ventures, Tabu has also appeared in Meghna Gulzar's 2015 whodunit, co-written by Vishal. Earlier this year, she was featured in Vishal's son Aasman Bhardwaj's directorial debut, "Kuttey," cementing their enduring collaboration.
"Khufiya" is a neo-noir spy thriller adapted from Amar Bhushan's espionage novel, "Escape to Nowhere." The film boasts a talented ensemble cast, including Ali Fazal, Wamiqa Gabbi, and Ashish Vidyarthi. Wamiqa Gabbi, who has previously collaborated with Vishal Bhardwaj in Prime Video India's anthology "Modern Love Mumbai" and the short film "Fursat" earlier this year, adds to the film's intrigue.
During the teaser launch of "Khufiya" last year, Vishal Bhardwaj was asked about the secret behind his explosive onscreen chemistry with Tabu, to which he charmingly replied, "It's love."
As the anticipation for "Khufiya" continues to build, viewers can mark their calendars for October 5 when the film promises to deliver a captivating blend of suspense, espionage, and the undeniable allure of Tabu and Vishal Bhardwaj's onscreen partnership.
Prepare for an enthralling cinematic journey as Tabu and Vishal Bhardwaj reunite for 'Khufiya,' an espionage thriller set to premiere exclusively on Netflix India on October 5.
Sources By Agencies