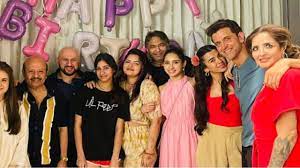 Bollywood's Saba Azad is making headlines once again, this time for her heartwarming participation in the birthday celebrations of Hrithik Roshan's beloved niece, Suranika. The actress not only graced the event with her presence but also took to Instagram to share heartfelt moments from the memorable occasion.
Saba Azad's Special Bond with the Roshan Family
Rumors have been swirling about Saba Azad's relationship with the Roshan family, especially after her conspicuous absence from social media posts about Hrithik Roshan's filmmaker father, Rakesh Roshan's birthday. However, Saba has now put those speculations to rest by joining in the festivities and sharing warm wishes for Suranika.
A Heartfelt Birthday Note and Pictures
Taking to Instagram, Saba Azad penned a touching birthday note for Suranika, expressing her affection and admiration. She wrote, "Last night at our suru bean's birthday celebrations!! Happy bornday you sweetest bravest most talented human you @suranika live forever pls thanks. Also, it's true, girls make the world go round!! These two in particular."
Accompanying her message were three delightful pictures capturing candid moments from the celebration. Saba was seen posing alongside Suranika and Hrithik's sister, Pashmina Roshan, as they shared animated expressions and struck different poses against a backdrop adorned with a 'Happy Birthday' wall hanging. Saba's choice of attire, a sleeveless red top paired with a matching hair tie and beige pants, radiated elegance and style.
Warm Responses from Suranika and Pashmina
Suranika couldn't contain her joy and affection and commented on Saba's post with a string of endearing emojis. Pashmina Roshan also chimed in, expressing her gratitude and affection toward the duo.
Suranika's Birthday Extravaganza
Suranika herself shared glimpses from her birthday celebration on her own Instagram account. In one heartwarming photo, she posed alongside her extended family, including Hrithik Roshan, Saba Azad, Pashmina Roshan, Hrithik's mother Pinky Roshan, and music composer Rajesh Roshan, among others. The Roshan family exuded warmth and togetherness against the same 'Happy Birthday' backdrop.
The absence of public wishes from Hrithik Roshan and his ex-wife, Sussanne Khan, didn't go unnoticed. However, it's worth mentioning that Sussanne had recently sent heartfelt wishes to her ex-father-in-law, Rakesh Roshan, on his 74th birthday, addressing him as "papa."
Saba Azad, known for her acting prowess, was last seen in Naseeruddin Shah's directorial short film, "Man Woman Man Woman." Meanwhile, Hrithik Roshan is gearing up for his next big project, the action thriller "Fighter," slated for release next year.
This heartwarming celebration and Saba Azad's presence continue to strengthen the bonds within the Roshan family, captivating fans and followers with their close-knit relationships.
In a display of warmth and affection, Saba Azad's participation in Suranika's birthday celebration underscores the close ties she shares with the Roshan family, dispelling rumors and spreading joy among fans.
Sources By Agencies