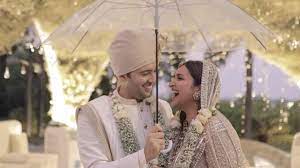 Love was in the air as actress Parineeti Chopra surprised her husband, Raghav Chadha, with a heartfelt wedding gift: a special song titled "O Piya." The actress sang and recorded this romantic melody as a personal expression of love and affection for her newlywed husband. On Friday, Parineeti shared heartwarming moments from their wedding festivities on social media, along with a video dedicated to Raghav featuring the song.
In response to the touching gesture, Raghav Chadha expressed his emotions on Instagram, writing, "I never thought I would ever receive a gift like this, but I guess my singer wife loves surprising me! I am truly overwhelmed… Your voice has now become the soundtrack of my life…Our life…Thank you, Mrs. Chadha. I consider myself the luckiest man in the world to have you by my side."
The video shared by Parineeti captures cherished moments from their wedding day. It begins with Parineeti playfully hiding from the baaraat (groom's wedding procession). Filled with happiness, she exclaims, "Oh my god, it's happening." The video also features her bridal entry and the heartwarming jaimala (garland exchange) ceremony, making it a beautiful and emotional memento of their special day.
Sharing the video on her social media, Parineeti wrote, "To my husband…The most important song I've ever sung .. walking towards you, hiding from the baraat, singing these words … what do I even say .. O piya, chal chalein aa. So grateful for everyone who helped make this song come alive."
The creative team behind "O Piya" includes composer Gaurav Dutta and lyricists Gaurav Dutta, Sunny MR, and Harjot Kaur. The song's production credits go to Nabeel and Sunny M.R. Parineeti also expressed her gratitude to her entire team for making this day extra special.
In the comments section of the heartwarming post, Parineeti's brother Shivang Chopra expressed his emotions, saying, "Dudeeeeee. Okay emotional max. Parineeti Chopra you look cute-ish. Raghav Chadha handsome af." Designer Manish Malhotra, who created Parineeti's bridal outfit, shared heart emojis to convey his delight. Actress Neha Dhupia commented, "Sooooo beautiful."
Parineeti Chopra and Raghav Chadha recently shared dreamy pictures from their wedding, celebrating their new journey as a married couple. They captioned the images, "From the very first chat at the breakfast table, our hearts knew. Been waiting for this day for a long time… So blessed to finally be Mr and Mrs! Couldn't have lived without each other… Our forever begins now."
The couple had an intimate destination wedding in the picturesque city of Udaipur, Rajasthan, surrounded by close friends and family members. They also hosted a reception for their loved ones, creating cherished memories to mark the beginning of their marital journey.
Sources By Agencies