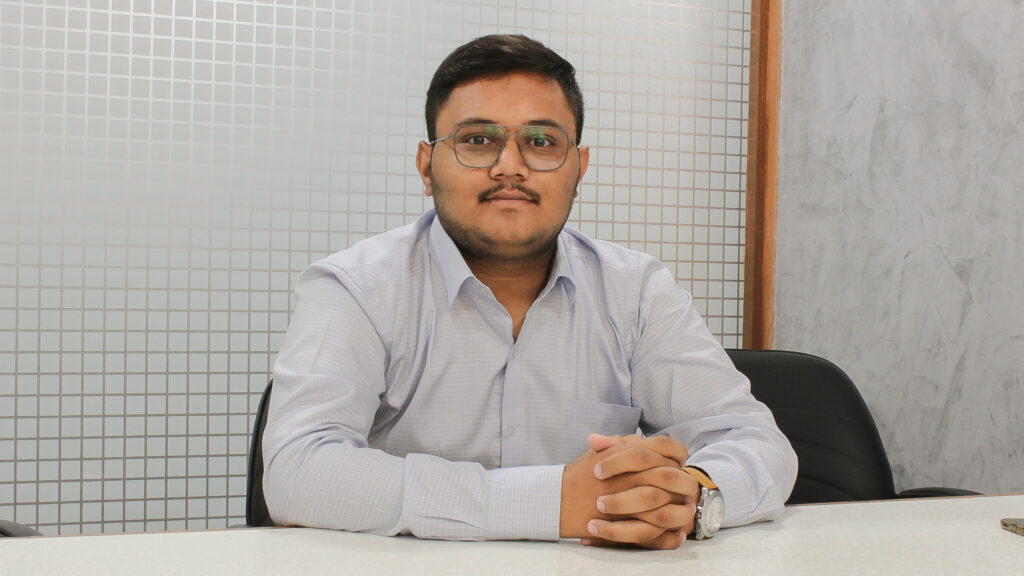 Pramey ajudiya has always been a consistent learner since his school days and demonstrated his interests in a variety of domains including photography, travelling, and watching science fiction. As he completed his elementary schooling, he was pretty sure of my aim of becoming an entrepreneur and setting up a firm that can cater to the needs of a variety of customers. With my rigorous research and persistence, he got to know about the booming IT industry and that led to his first step into this field.
He pursued a Diploma in Computer Science and Engineering to gain knowledge of networking, operation system, and mobile computing focusing on the basic implementation and deployment levels. During his diploma, he earned my first exposure in the professional domain by working as an intern at a deemed University. Though he lacked experience, the role offered me brand new challenges as a graphic designer and helped me in learning the actual applications of my skills.
As a part of my job, he pursued a huge variety of tasks, including the design of creative website layouts for both eCommerce and non-eCommerce ventures, and content creation. This journey helped him excel in CorelDraw, especially when it was about making rough sketches of material, discussing them with clients, and making necessary changes. Altogether, he got acquainted with the complete branding requirements of a firm.
During his diploma, he always thought of creating a business setup back in my mind. To gain foundational experience in running a business,
Pramey started his first attempt as an entrepreneur at Pramey Industries in 2019. The role of Founder and CEO at Pramey Industries taught him the pathway to a successful business. This position engaged him in constant interaction with office employees, maintaining various records of payroll activities and expansion of the team. Overall, the experience moulded him into a blend of a productive and flexible founder, managing his employees and clients simultaneously.
Overall, by the end of his diploma in 2020, Pramey had gained both, rock-solid foundations in computer science and a holistic experience to run a business. With this knowledge and experience in my bag, he became more curious to explore the trends in my professional domain.
The tremendous shift to the digital world during the pandemic and time after motivated him to start his own freelance graphic design business, Mediaaza in 2020, which aimed to assist companies in their brand development. Starting from a simple logo design, Mediaaza offer a wide range of services, including, but not limited to, brand positioning, promotions, digital marketing, creative advertising content creation for various media, including catalogues, menus, business cards, flyers, posters, t-shirts, product packaging, gif animations, videos, websites, and social media handling. All these services, under a single banner of Mediaaza, relieve the companies from their branding and marketing needs.
Though the number of digital marketing service providers has increased significantly in the last 3 years, there are three main reasons that make Mediaaza unique in the competitive market.
First is the commitment to client needs. They always thrive to satisfy the needs of the client, in the shortest possible time and in the most economical way. Unlike other companies, who are just moulding the clients as per their designs, Mediaaza always mold designs as per clients.
The second is ample creativity in designs. With the cumulative experience of design team, we always deliver unique and creative value to our customers, something out of the box, something that aids in our client's business.
The third and final reason is customer-centric service. Midiaaza always believes in setting up a relationship with clients, not just in monetary terms, but emphatically as well. So, they understand clients and their requirements and work rigorously to serve them the best.
The profitability of their clients is the only evaluating factor that we consider to be our success story. One such example is our prime client – Swift Mart, a supermarket situated in the streets of Jamnagar, Gujarat, India. With our two months of engagement and the digital services, the supermarket has observed a steep increase of almost 150% in footfall, resulting in an average of 86% increase in revenue. That is what they expect when their client becomes visible in the digital world.
The evidence of our superiority in the business is quite clear from the fact that within a short span, Midiaaza have collaborated with small- to medium-sized companies, corporations, governmental organizations, and business owners from New Zealand, Australia, and the rest of the world. Mediaaza now has more than 50 clients with expertise in various domains, and they are all associated with us without any form of contract or bond.
With Pramey Industries and Mediaaza, acquired two successful firms under pramey's supervision by June 2020, but his gist of learning new didn't stop here and he started pursuing his graduation in Information Technology to learn the conceptual frameworks of the IT industry.
During the course, Pramey planned to gain the necessary understanding of current technologies and architectures in software management to develop mobile-enabled enterprise computer systems. To cope with the entire needs of the branding,
He is also learning VFX and Animations, which will help him in creating animated visuals and high-quality graphics for games, movies, television shows and much more. And this will help him in creating a full-fledged prominent software development company, Mediaaza, with clients from the fields of mobile and web development in a growing market of the mobile gaming industry.
His linkedin:
https://www.linkedin.com/in/prameyajudiya/
His Instagram:
https://www.instagram.com/pramey.ajudiya/
His Facebook:
https://www.facebook.com/pramey.ajudiya