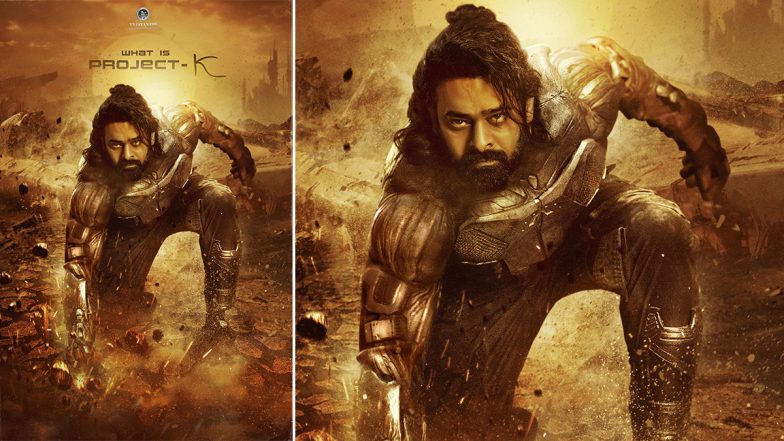 The excitement builds for the highly-anticipated film, Project K, as its makers reveal the first look of superstar Prabhas from the movie. Directed by Nag Ashwin, the epic science-fiction film boasts a star-studded ensemble cast, including Deepika Padukone, Amitabh Bachchan, Kamal Haasan, and Disha Patani. Project K marks Prabhas' next big venture, and fans are eager to catch a glimpse of what awaits in this ambitious production.
The official Instagram handle of Vyjayanthi Movies shared Prabhas' intense first look, showcasing him in a rugged avatar. Dressed in superhero armor, Prabhas' compelling expression and powerful stance exude a sense of rebellion, setting the tone for an enthralling cinematic experience. The poster reveals Prabhas' long hair and beard, further adding to the mystery surrounding his character in the film.
Project K holds the distinction of becoming the first-ever Indian film to make its debut at the esteemed San Diego Comic-Con (SDCC) in 2023. The event, scheduled from July 20 to 23, will witness the presence of Kamal Haasan, Prabhas, Deepika Padukone, and Nag Ashwin, who will participate in various activities, including the unveiling of the film's title, trailer, and release date.
The film's promotional campaign has already made waves in New York City's Times Square, where a billboard teased the first glimpse on July 20. As anticipation grows, fans worldwide are eager to learn more about Project K and its unique blend of mythology and science-fiction.
Prabhas and Rana Daggubati, who starred together in the blockbuster Baahubali franchise, were spotted together in the US, further adding to the intrigue surrounding the film. Their presence at the event has heightened expectations among fans and industry enthusiasts alike.
Addressing the importance of the San Diego Comic-Con event, Nag Ashwin stated, "Our film is an attempt to bring out and share some of India's greatest lore and superheroes with the world. Comic-Con provides us with the perfect stage to introduce our story to a global audience."
As excitement peaks, Project K promises to be a visual extravaganza that transcends language barriers, as it is set to release in Telugu, Hindi, Tamil, Malayalam, Kannada, and English languages on January 12, 2024. The multi-lingual approach adds to the film's appeal and sets the stage for a cinematic spectacle of epic proportions.
With a stellar cast, visionary director, and compelling storyline, Project K is all set to redefine the boundaries of Indian cinema and leave an indelible mark on the global stage. As fans eagerly await the unveiling of the first glimpse at the San Diego Comic-Con, the film's prospects as a mytho-sci-fi epic grow ever brighter.
Sources By Agencies