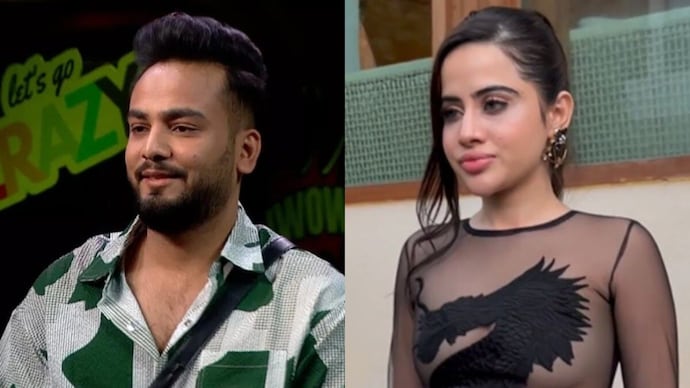 In an unexpected turn of events, former Bigg Boss contestant Uorfi Javed made a special appearance in the Bigg Boss OTT 2 house, surprising both housemates and viewers alike. The reunion brought forth playful interactions, discussions about fashion, and a glimpse into Uorfi's unique style statements.
As Uorfi entered the house, she was warmly greeted by the current contestants. Pooja Bhatt, one of the housemates, didn't hold back her admiration, hailing Uorfi as a 'legend.' The atmosphere was charged with excitement as Bebika Dhurve enthusiastically hugged Uorfi, expressing joy at her unexpected presence.
The highlight of the interaction came when Uorfi engaged in a light-hearted banter with fellow contestant Elvish Yadav. Known for his humor, Elvish revealed his wish to design a special outfit for Uorfi. With a playful smile, Uorfi asked Elvish what kind of outfit he had in mind. Elvish's response left everyone amused – "Main banaunga, suit salwar" (I will design a salwar suit). Uorfi took the moment in stride, noting that while she does wear salwar suits, she prefers outfits that make her feel comfortable and confident.
Their exchange continued with Elvish specifying that he envisioned a green-colored salwar suit for Uorfi. In good spirits, Uorfi agreed to wear the outfit during the finale episode, promising to flaunt Elvish's creation.
During the interaction, Uorfi also took the opportunity to shed light on the theme behind her distinctive style. She shared, "Bigg Boss got inspired by me, I guess! That's why the theme of recycling is here – just like how I create my stunning outfits." Uorfi's fashion sense involves crafting outfits from recycled materials, showcasing her creativity and unique approach to clothing.
Pooja Bhatt's admiration for Uorfi continued as she expressed her respect for Uorfi's audacity and unique style. In a heartfelt moment, Pooja praised Uorfi's impact and described her as a 'legend.'
Uorfi also took the opportunity to reflect on her journey, particularly her elimination from the first season of Bigg Boss. She shared her initial disappointment upon leaving the house but revealed that the experience ultimately propelled her into the spotlight due to her eye-catching outfits. Uorfi candidly discussed dealing with online trolls who criticized her fashion choices and how she overcame her insecurities.
The unexpected reunion of Uorfi Javed with the Bigg Boss OTT 2 housemates left a lasting impression, igniting discussions on fashion, self-expression, and personal growth. As the interactions unfolded, viewers witnessed a genuine connection and a celebration of individuality.
In a world where appearances and style often take center stage, Uorfi's appearance served as a reminder of the power of self-confidence and creativity. The playful banter and heartwarming moments showcased the camaraderie that can emerge even in the most unexpected circumstances.
As the Bigg Boss OTT 2 continues to captivate audiences, Uorfi Javed's surprise visit added an element of nostalgia and inspiration, reminding everyone that personal style is a reflection of one's inner self and a means of embracing individuality.
Sources By Agencies