Greater Noida, Date: In the heart of a small village called Bisrakh in Greater Noida, a man with a passion for justice and a relentless drive to uplift the poor and eradicate corruption has been making waves. Meet Adv. Sagar Sharma, affectionately known as "Sagar Ravan" by the locals, who has been tirelessly working for the betterment of his community and beyond. His dedication to social causes has extended to the digital realm, where he spreads knowledge and awareness through social media platforms like YouTube, Instagram, and his website, aapkiadalat.in.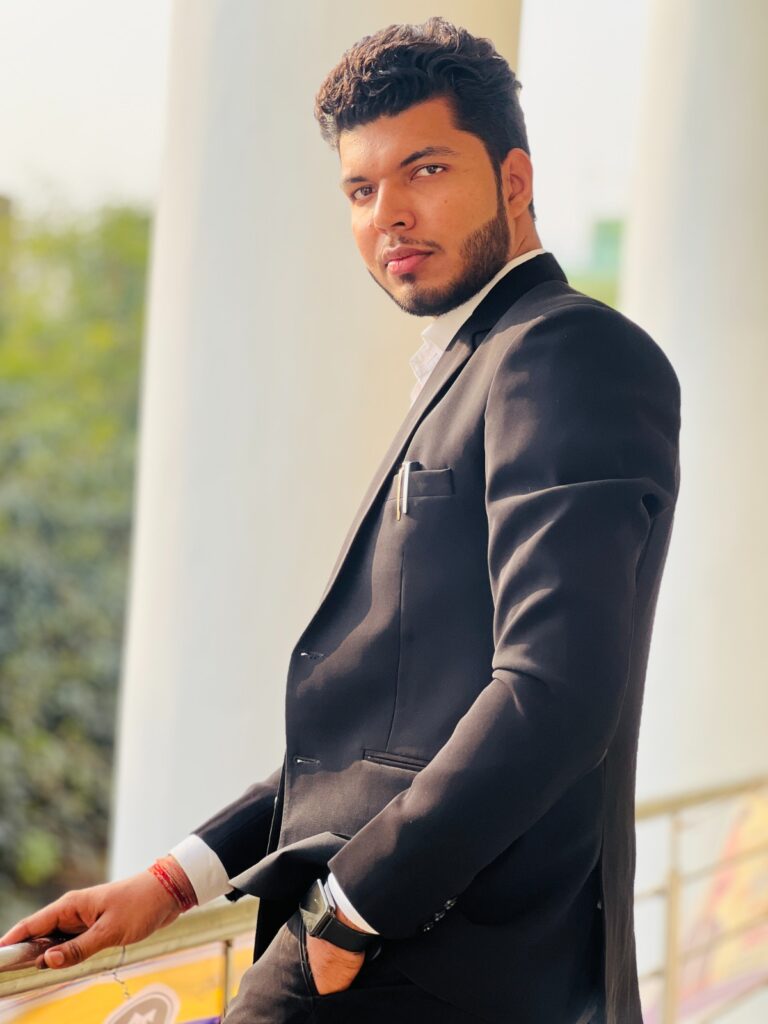 The Rise of Sagar Sharma:
Born and brought up in Bisrakh, Adv. Sagar Sharma had humble beginnings. Growing up amidst the challenges of rural life, he witnessed the hardships faced by the underprivileged firsthand. It was this exposure to social disparity that ignited a spark in him to become a voice for the voiceless. After completing his early education in Bisrakh, he pursued a law degree and eventually became a practicing lawyer.
A Beacon of Hope for the Poor:
From the outset of his legal career, Adv. Sagar Sharma was driven by a strong sense of social responsibility. He felt that his knowledge and skills as a lawyer could be put to the best use by helping those who could not afford quality legal representation. With this mission in mind, he began providing free legal aid to the poor and marginalized.
Word of his altruistic efforts spread like wildfire, and soon, people started referring to him as "Sagar Ravan," a moniker that encapsulated his fierce determination to fight for justice against all odds. His legal prowess and unwavering commitment earned him the trust and respect of the villagers, who saw him as their savior from the clutches of injustice.
Crusading against Corruption:
In addition to his work for the poor, Adv. Sagar Sharma took on another formidable adversary: corruption. Corruption had been a long-standing issue in the region, hindering development and perpetuating inequality. Adv. Sagar Sharma, with his unyielding spirit, vowed to take down this mighty foe.
Through his legal battles and public awareness campaigns, he exposed corruption at various levels of governance, holding the guilty accountable and demanding transparency. His unwavering stance against corruption garnered him both admiration and animosity, but he remained undeterred.
YouTube:- Adv Sagar Sharma
INSTAGRAM:- @ADVOCATESAGARSHARMA
@AAPKIADALAT.IN
@THESAGARFOUNDATION
FACEBOOK:- Adv Sagar Sharma
Spreading Knowledge and Awareness:
Realizing the power of information and education, Adv. Sagar Sharma ventured into the digital world to amplify his message. He started a YouTube channel where he shared legal insights, simplified complex legal terms, and educated the masses about their rights. His down-to-earth approach and relatable style made him a favorite among viewers from all walks of life.
On Instagram, he actively engaged with his followers, answering legal queries and sharing inspiring stories of his battles for justice. His Instagram handles, @advocatesagarsharma and @aapkiadalat.in, became a hub for people seeking legal guidance and wanting to stay informed about pressing social issues.
To further streamline his efforts, Adv. Sagar Sharma launched the website aapkiadalat.in, where he compiled legal resources, case studies, and articles on various social issues. The website also served as a platform to connect with like-minded individuals and organizations working towards social reform.
Impact and Recognition:
Over time, Adv. Sagar Sharma's work has left an indelible mark on the lives of the people he has touched. Families saved from eviction, victims of injustice finding closure, and individuals empowered with knowledge – his impact is profound and far-reaching.
His relentless pursuit of justice and anti-corruption endeavors did not go unnoticed. He was recognized by various civil society groups, receiving awards and accolades for his exceptional contributions to society. National and international media also featured him, spreading his message beyond the borders of Bisrakh.
Challenges and the Road Ahead:
While Adv. Sagar Sharma's journey has been commendable, it has not been without challenges. His bold stance against corruption has made him face threats and opposition from vested interests. However, his determination and the support of the people have kept him going.
Looking to the future, Adv. Sagar Sharma aspires to expand his outreach and create a network of legal aid centers to cater to underprivileged communities in different parts of the country. He envisions a society where justice is accessible to all, regardless of their socioeconomic status.
Conclusion:
Adv. Sagar Sharma's story is a testament to the power of a single individual to effect change in society. From his humble beginnings in Bisrakh to becoming a crusader for justice, a champion of the poor, and a symbol of hope against corruption, his journey inspires us all to take action for the greater good.
Through his digital initiatives, he has harnessed technology to bridge the gap between legal knowledge and the masses, empowering them to assert their rights and demand accountability. As he continues to illuminate the path to justice and equality, Adv. Sagar Sharma remains an inspiring figure, reminding us that change begins with a single step and a relentless pursuit of truth and righteousness.