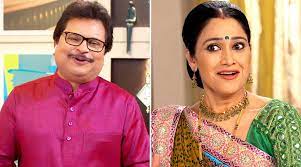 The iconic TV show "Taarak Mehta Ka Ooltah Chashmah" is all set to witness a joyous reunion as the beloved character Dayaben, portrayed by Disha Vakani, is making a much-awaited comeback. Producer Asit Kumarr Modi has fulfilled his promise to fans by confirming Disha Vakani's return to the show, as per recent reports.
"Taarak Mehta Ka Ooltah Chashmah" has been a favorite among viewers for its light-hearted humor and heartwarming characters. One of the most beloved characters on the show, Dayaben, played by Disha Vakani, had taken a hiatus from the series for personal reasons, leaving fans eagerly anticipating her return.
As the show celebrates its 15-year milestone, Asit Modi took the opportunity to share the exciting news with fans. He expressed his heartfelt congratulations to the entire team and revealed that Disha Vakani, who had been an integral part of the show for almost a decade, will soon reprise her role as Dayaben.
Disha's absence from the show had left a void in the hearts of fans, who fondly remembered her endearing portrayal of the lovable and quirky Dayaben. Her unique style and infectious laughter had earned her a special place in the hearts of viewers.
Over the past few months, "Taarak Mehta Ka Ooltah Chashmah" had faced some challenges, with several actors leaving the show due to various reasons, including ill-treatment, harassment, and payment issues. However, Asit Modi's assurance of Disha Vakani's return has brought much excitement and enthusiasm among the show's loyal fanbase.
The news of Disha Vakani's comeback comes amidst speculations about her health, with previous reports claiming she had developed throat cancer due to Dayaben's distinct voice. However, the show's director, Malav Rajda, had promptly dismissed these rumors, emphasizing the importance of responsible journalism.
As fans eagerly await the return of Dayaben, "Taarak Mehta Ka Ooltah Chashmah" continues to be one of the longest-running and most cherished TV shows in Indian television history. Disha Vakani's portrayal of Dayaben is a testament to her talent as an actor and her ability to win hearts with her charming performance.
Her character's humor, innocence, and family-oriented values had resonated with audiences of all ages, making her a household name across the country. With Disha's impending return, the show's popularity is expected to reach new heights, and viewers can once again relish the delightful moments that Dayaben brings to their screens.
Disha Vakani had taken a maternity break in 2017, during which she welcomed her daughter and later a son in May last year. Her fans' excitement is palpable as they eagerly await her triumphant return to the show that has been an integral part of their lives for so many years.
With Disha Vakani's Dayaben back in action, "Taarak Mehta Ka Ooltah Chashmah" is set to embark on a fresh chapter of laughter, love, and endless entertainment, reaffirming its position as one of India's most beloved and cherished TV shows.
Sources By Agencies