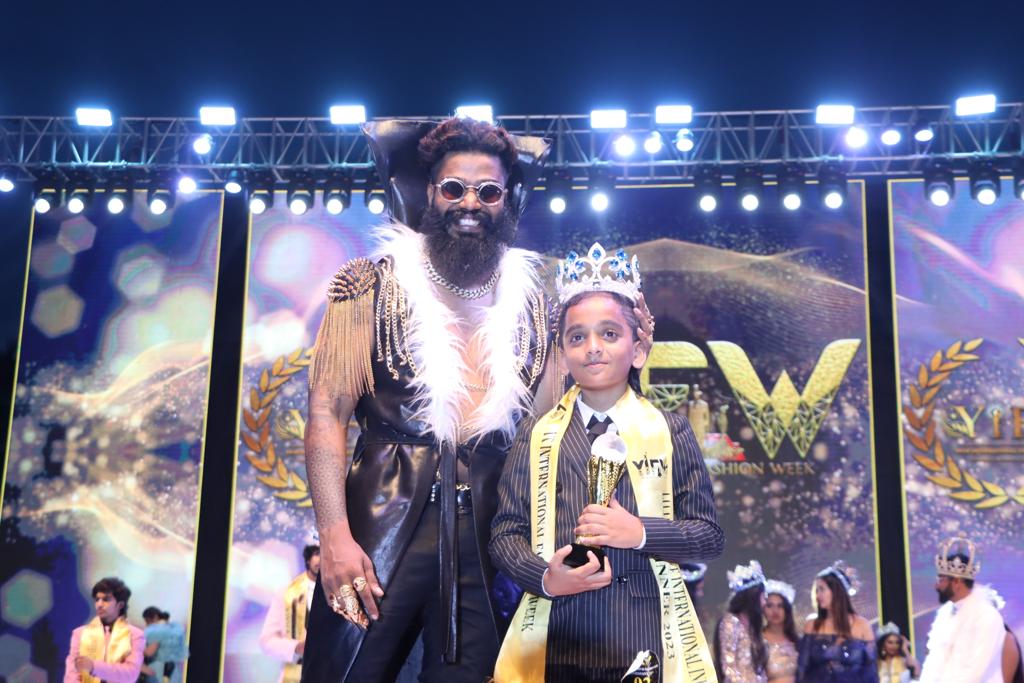 In the realm of glamour and spotlight, where dreams take shape and aspirations touch the sky, stands a remarkable young talent, Ishan M Anto. Born in the picturesque city of Trivandrum, Ishan's journey from a modest beginning to becoming an international celebrity kid model is nothing short of awe-inspiring.
Ishan M Anto was welcomed into this world in Trivandrum, a place that would witness the unfolding of his remarkable destiny. Born to parents Anto GL and Megha A, Ishan was destined to shine. From the very start, it was evident that he possessed a charismatic aura that drew people towards him.
A Star in the Making: Achievements that Dazzle
Ishan's journey is adorned with an array of achievements that would make anyone proud. He earned the prestigious title of "Little Prince International India 2023", a testimony to his charm and confidence. With a staggering collection of 17 pageant titles, including the esteemed YS International Award and the BigScreen Award, Ishan has proven his mettle time and again.
Hailing from the United Arab Emirates, Ishan has also been recognized as the "International Celebrity Kid Model of UAE", adding an international flavor to his fame. He proudly represents IFW Goa as its brand ambassador and continues to be the face of "Little Prince International India".
A Shining Path: Dedication and Passion:
At a tender age of 10, Ishan has accumulated 8 years of experience in the fashion industry. His association with the MAX brand and his crown-winning feats are a testament to his dedication. His goal to become an actor and model shines bright, illustrating his ambition to conquer new horizons.
A Glimpse into the Persona: Hardworking Dreamer
Ishan's personality is a blend of humility and determination. His mother, his motivator, and pillar of strength, has been his guiding light. With an unwavering belief in God, Ishan approaches life with gratitude and humility. Beyond his modeling prowess, he is an avid football player, a skilled swimmer, and a talented dancer. His commitment to charity and humanity showcases his heart of gold.
Charisma Beyond the Camera: Boldness and Style
For Ishan, modeling transcends mere appearances. He understands that true modeling entails boldness and style. A smart model, he knows that fashion is an instant language, one that he's eager to learn and communicate. His hard work is an embodiment of his belief that success is achieved through relentless efforts.
A Fashionable Role Model: Ishan's Attitude and Charisma
Ishan M Anto's journey is not just about the glitz and glamour of the fashion world. It's a testament to his unyielding attitude, charisma, and the values he holds dear. He believes in the power of a smile, understanding that it's not just about looking good on the outside, but radiating positivity from within. His respect for everyone he encounters, regardless of their status, reflects his humility and the values instilled in him.
A Vision Beyond the Runway: The Power of Dreams
Ishan's dreams stretch far beyond the runway and the camera flashes. With a heart set on becoming an actor, he aims to bring his dynamic presence to the big screen. His aspirations have led him to the world of acting, where he envisions himself portraying diverse characters and touching hearts with his performances. It's a testament to his versatility and determination that he doesn't limit himself to a single domain.
Lessons from Ishan's Journey: Hard Work and Perseverance
The journey of Ishan M Anto serves as a beacon of inspiration for aspiring talents and dreamers. His story underscores the importance of hard work and perseverance. It reminds us that each achievement is a result of countless hours of dedication and an unwavering belief in oneself. Ishan's journey tells us that success isn't handed on a silver platter; it's earned through the sweat and tears shed on the path of pursuing one's dreams.
A Smile that Inspires: Ishan's Impact
Ishan's infectious smile is more than just a charming feature; it's a symbol of his resilience and optimism. In an industry often associated with competition and pressure, Ishan manages to maintain his enthusiasm and joy. His smile is a reminder that even in the face of challenges, a positive outlook and a determined spirit can make all the difference. Ishan's impact reaches beyond the runway as he leaves a trail of inspiration wherever he goes.
The Future Unfolds: Ishan's Ongoing Journey
As Ishan M Anto continues his journey towards his goals, he does so with a heart full of hope and a mind brimming with ambition. His story is an ever-evolving saga of hard work, dreams, and achievements. With his sights set on the world of acting and modeling, Ishan's journey is far from over. He stands as a living testament to the idea that age is no barrier to success, and with the right attitude, even the loftiest of dreams can be realized.