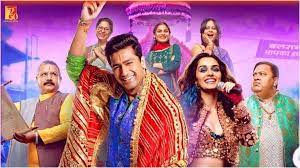 The much-anticipated trailer for Vicky Kaushal's upcoming film, "The Great Indian Family," has been unveiled, offering a glimpse into a lighthearted yet thought-provoking family drama. Directed and written by Vijay Krishna Acharya and co-starring the talented Manushi Chillar, the film is scheduled for release on September 22 under the banner of Yash Raj Films.
The trailer takes viewers on a journey to the picturesque town of Balarampur, where Vicky Kaushal's character, Bhajan Kumar, makes his charismatic entry. Singing "Kanhaiya Twitter Pe Aja," he introduces himself as Ved Vyas Tripathi and offers a charming insight into his family, deeply rooted in the pandit community of Balarampur for generations. However, amidst all the familial bliss, Bhajan Kumar humorously laments his inability to find a date, as girls often seek his blessings by touching his feet.
As Manushi Chillar's character enters Balarampur, Vicky's character attempts to impress her, sparking laughter and romantic intrigue. But just when things seem to be sailing smoothly, Bhajan Kumar stumbles upon a letter hinting at a shocking revelation—his true identity may be Muslim. This revelation sets off a chain of problems and confusions, forcing Bhajan Kumar to challenge his own family's beliefs in a bid to prove his point. Although the trailer keeps the details under wraps, the tagline teases that the film is set to be "the biggest confusion of the year."
Fans and viewers have responded enthusiastically to the trailer, praising Vicky Kaushal's magnetic screen presence and his impeccable portrayal of Bhajan Kumar. One fan commented, "Vicky's screen presence is magnetic. He draws you into the story effortlessly," while another raved, "I can't get over how good Vicky looks in this role. Total heartthrob!" The trailer's infectious charm and humor have left a lasting impression.
"The Great Indian Family" boasts a talented ensemble cast, including Manoj Pahwa, Kumud Mishra, Yashpal Sharma, Alka Amin, Shrishti Dixit, Bhuvan Arora, and Bharti Perwani in pivotal roles. The film's first song, "Kanhaiya Twitter Pe Aaja," was released a few weeks ago, featuring Vicky Kaushal dancing exuberantly on stage to the delight of the audience.
This film marks Vicky Kaushal's second release of the year, following "Zara Hatke Zara Bachke," where he shared the screen with Sara Ali Khan. As "The Great Indian Family" promises a blend of comedy, romance, and cultural exploration, it is poised to be a delightful addition to the Bollywood cinematic landscape, offering both laughter and food for thought.
Sources By Agencies