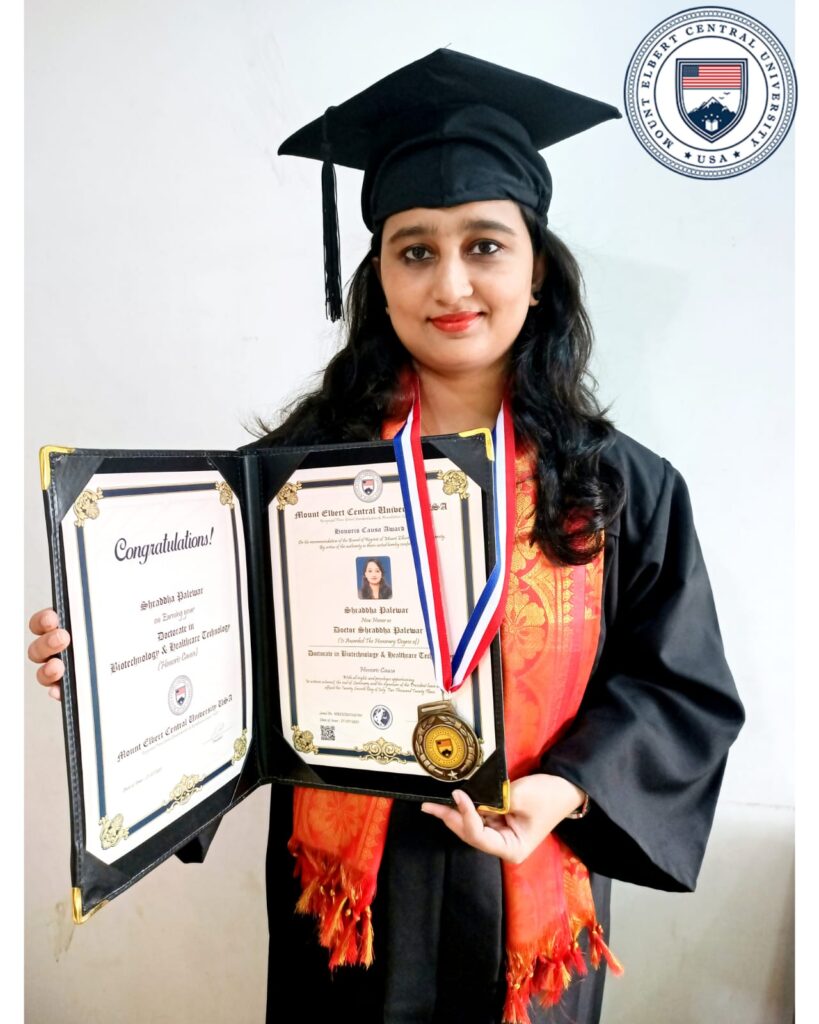 In an inspiring convergence of brilliance, innovation, and dedication, the esteemed DR. SHRADDHA PALEWAR graced the stage at the eminent Mount Elbert Central University, USA, to be bestowed with an Honorary Doctorate Award (Honoris Causa) in Biotechnology & Healthcare Technology. With an illustrious career spanning over 11+ years, DR. PALEWAR is more than a mere name; she is an embodiment of excellence in the fields of biotechnology, science, and entrepreneurship. This momentous occasion was marked not only by the celebration of her remarkable achievements but also by her captivating discourse on "Healthy India, Empowered Women: The Kangen Water Revolution."
As a biotechnologist and scientist par excellence, DR. PALEWAR has catalyzed a paradigm shift in the landscape of healthcare technology. Her journey from academia to industry has been nothing short of extraordinary, with her relentless passion for innovation driving her to the forefront of the pharmaceutical industry. Armed with a M.Sc. in Biotechnology and a Postgraduate Diploma in Regulatory Affairs, she has not only accrued knowledge but has translated it into transformative action.
With co-founding credits at DocRoSh Health Pvt Ltd and as the illustrious Centre Head at Podar Preschool, DR. PALEWAR's influence reverberates across diverse domains. Her dynamic leadership and vision have merited her accolades, including the Rising Star and Healthcare Tech awards, underscoring her profound impact on the health sector.
Empowerment through the Kangen Water Revolution
The focal point of the event was DR. PALEWAR's insightful discourse, "Healthy India, Empowered Women: The Kangen Water Revolution." In this compelling address, she illuminated the role of women in driving health revolutions and fostering holistic well-being within society. DR. PALEWAR's groundbreaking research on Kangen Water, a revolutionary concept in the realm of hydration and health optimization, captured the audience's attention.
With an impassioned conviction, DR. PALEWAR delved into the life-changing potential of Kangen Water, addressing how it could revolutionize our approach to wellness. Her eloquence and expertise painted a vivid picture of a future where health is harnessed through empowerment, and women play a pivotal role in shaping a healthier nation.
As DR. SHRADDHA PALEWAR took the stage, a palpable sense of anticipation enveloped the audience. Her presence resonated as a beacon of hope, urging everyone to dream beyond boundaries and to carve paths of innovation. The event was a tapestry of celebration, knowledge dissemination, and empowerment, where distinguished guests, colleagues, and aspiring minds joined in admiration of her achievements.
The spotlight now shifts to the journey ahead. DR. PALEWAR's story stands as a testament to the transformative power of perseverance, knowledge, and the unyielding pursuit of excellence. Her Honorary Doctorate Award (Honoris Causa) serves as an emblem of her tireless dedication to the betterment of healthcare technology and the empowerment of women.
In her address, DR. PALEWAR shared a glimpse into the future she envisions – a future where Kangen Water is not just a concept, but a reality, touching lives with its profound health benefits. She stressed the importance of collaboration between science, industry, and society to materialize this vision. The call to action echoed loud and clear: innovation should not be confined within laboratories, but should reach the masses, empowering every individual to take control of their health.
DR. PALEWAR's journey is a living testament to the infinite potential that lies within an empowered individual. As the event concluded, attendees were left with a profound sense of determination. The Kangen Water Revolution, fueled by DR. PALEWAR's pioneering spirit, now takes center stage in the collective pursuit of a healthier, empowered India.
In the annals of healthcare, DR. SHRADDHA PALEWAR's name is etched not only as an innovator but as an advocate for empowerment and change. Her story will continue to inspire generations, reminding us that true empowerment begins when knowledge is shared, innovation is embraced, and dreams are fearlessly pursued.
As we bid adieu to this remarkable gathering, we carry with us the echoes of DR. PALEWAR's resounding message – a call to action to contribute, innovate, and empower, all while nurturing a healthier India through the Kangen Water Revolution.