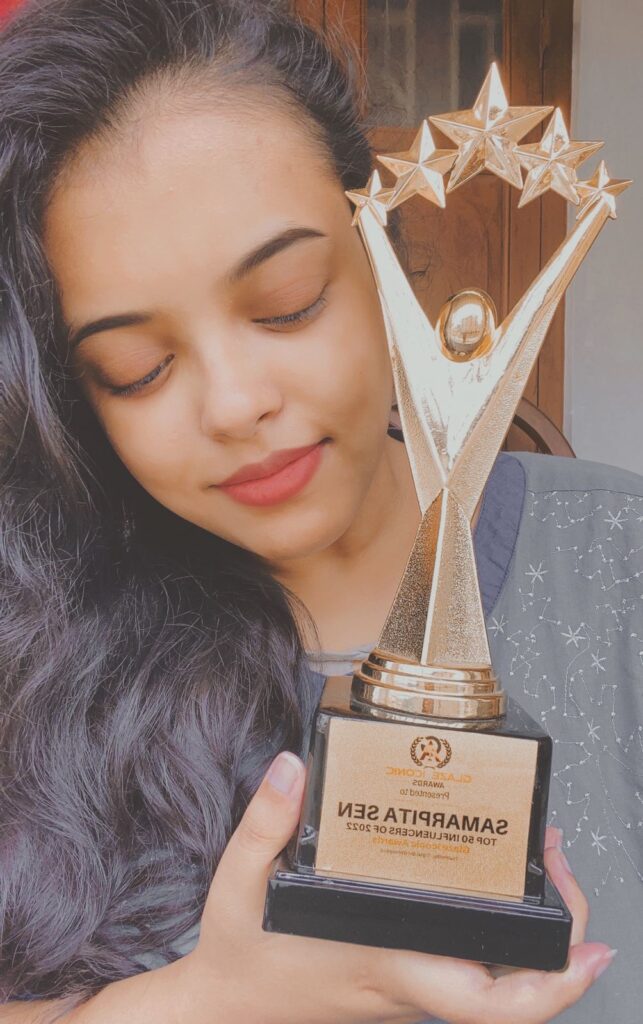 Digital World Innovations holds a series of Indian Influence Awards, recognizing the best online and offline artists and influencers in India as well as globally. The Glaze pays tribute to these artists by honouring their work with an awards ceremony.
Introducing the Glaze Iconic Awards, a prestigious award program for recognizing talent and inspiration among Indian influencers, musicians, entrepreneurs, and artists. With the Glaze Iconic Awards, you can gain increased visibility and recognition from some of the most respected names in the industry.
Samarpita Sen was born and raised in Kolkata..She graduated with an honours degree from Calcutta University in 2018. She is employed in a variety of social media platforms, such as Roposo and Moj, ShareChat etc… She has also won awards such as best artist from the Golden Arc Award, Asia 100 Women, Foxcluse 100 Top Women, etc. She also won several national awards…
Among the many awards she has received are the Magic Book of Record, the Bharatiya Youth Icon, and many more. The first achievement of Kyuili is to be named Star of the Month and the second second is to receive a ShareChat certificate as a social worker…
A prestigious award has been given to her as an artist… Along with this, she has also received recognition from an elite book award, the Frame and Fame Award in 2021, as well.
From this diversity of interests, She achieved the Elite and Magic book of records as a content creator. From the year 2020 onwards, she has become a content creator.