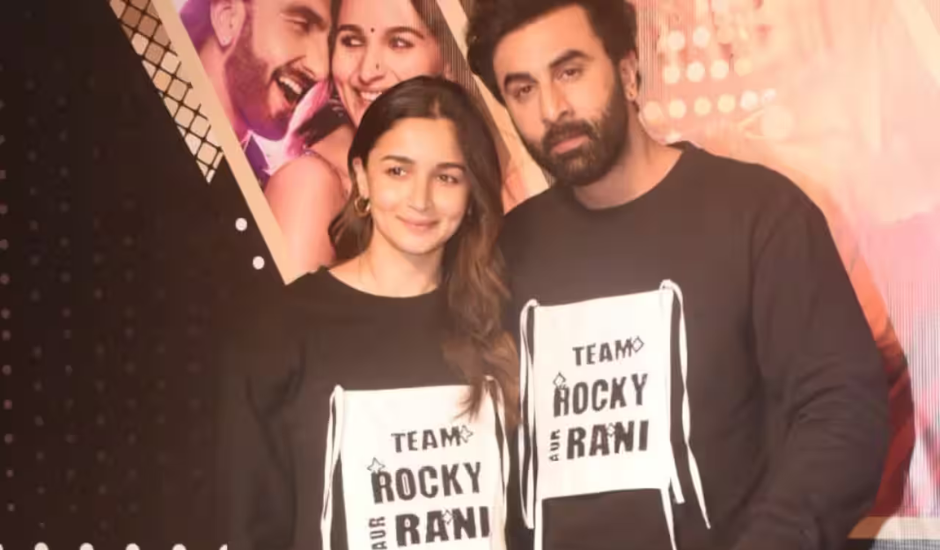 The much-awaited premiere of Karan Johar's romantic comedy "Rocky Aur Rani Kii Prem Kahaani" took place in Mumbai on Tuesday, drawing attention from fans and celebrities alike. The star-studded event witnessed the presence of the film's cast, including lead actors Alia Bhatt and Ranveer Singh.
Alia Bhatt, who stars alongside her real-life partner Ranbir Kapoor in the film, arrived at the premiere donning a black T-shirt paired with faded denims and black shoes. Ranbir, on the other hand, opted for black track pants and white shoes, perfectly complementing Alia's look. Both sported matching patches reading 'Team Rocky Aur Rani,' displaying their enthusiasm for the film.
During the music launch of the movie, Alia Bhatt revealed that Ranbir Kapoor has been actively involved in the film's music creation. Their previous collaboration in "Ae Dil Hai Mushkil" resulted in a fantastic album, and since then, Alia has been eager to make Ranbir listen to the songs from "Rocky Aur Rani Kii Prem Kahaani." His input and instincts for sound have been valuable to Alia during the musical journey of the film.
Ranveer Singh, who plays a pivotal role in the film, also attended the premiere wearing the 'Team Rocky Aur Rani' patch on his chest. However, his wife Deepika Padukone was absent from the event, having been spotted at the airport on a separate occasion.
Despite her absence at the premiere, Ranveer expressed that Deepika is excited to watch the film and supports his lead role in Karan Johar's directorial venture. He praised Deepika's understanding of the significance of the film and shared that she keeps singing the movie's songs around the house. Ranveer eagerly awaits her feedback on the film.
"Rocky Aur Rani Kii Prem Kahaani" has generated significant buzz among moviegoers, and the premiere further heightened the excitement. The film marks a notable collaboration between renowned actors and filmmakers and promises to deliver an entertaining romantic comedy to the audience.
Sources By Agencies