Shriguru Majid Paithankar, a well-known global spiritual leader, a Guru, Mystic, Visionary, founding president in The Zariya Organisation, was honoured with the title of Global Peace Ambassador in the 8th edition of World Parliament of Science, Religion, and Philosophy, held in the World Peace Dome which is the largest dome in the world, in association with the World Peace Centre, Alandi, by MIT-World Peace University (MIT-WPU), MAEER's MIT Group of Institutions, and MIT-ADT University.
This great title was given by the World Peace Centre (Alandi) from the hands of UNESCO Chair holder for Human Rights, Democracy, Peace, and Tolerance Prof. Dr. Vishwanath D. Karad, Founder President & Chief Patron, MAEER's MIT, Pune; with Padma Bhushan and Padma Shri – Hon'ble Dr. Vijay P. Bhatkar Chancellor of Nalanda University; and Padma Vibhushan, Padma Bhushan and Padma Shri – Hon'ble Dr. Raghunath Mashelkar, The World Famous Scientist, with Hon'ble Rahul V. Karad, Managing Trustee & Executive President,MAEER's MIT, Pune and Executive President, MIT-World Peace University,Pune; along with other Hon'ble dignitaries, Hon'ble Prof. Dr. Milind Pande – Pro-Vice Chancellor, MIT-WPU, Hon'ble Dr. Sanjay Upadhye,Motivational Speaker & Orator, Hon'ble Prof.Dr. Milind Patre,Associate Dean, Faculty of Peace Studies, MIT-World Peace University, Pune awarded Shriguru Majid for his work in communal harmony and global peace through his great influence in the hearts of the world as a pure saint and contemporary guru.
This program was blessed with the presence of eminent personalities such as the Hon'ble Governor of Maharashtra, Shri Bhagat Singh Koshyari; The gathering also saw the participation of Hon'ble Shri Dada Idate, Chairman of the National Commission for Denotified Nomadic and Semi-nomadic Tribes, New Delhi, and several other bureaucrats, politicians, diplomats, and other ambassadors including The Hon'ble MahaAdhikari of The Zariya International Gurukul of Kriya Sciences – Shri. Vinayak Sharma were in attendance.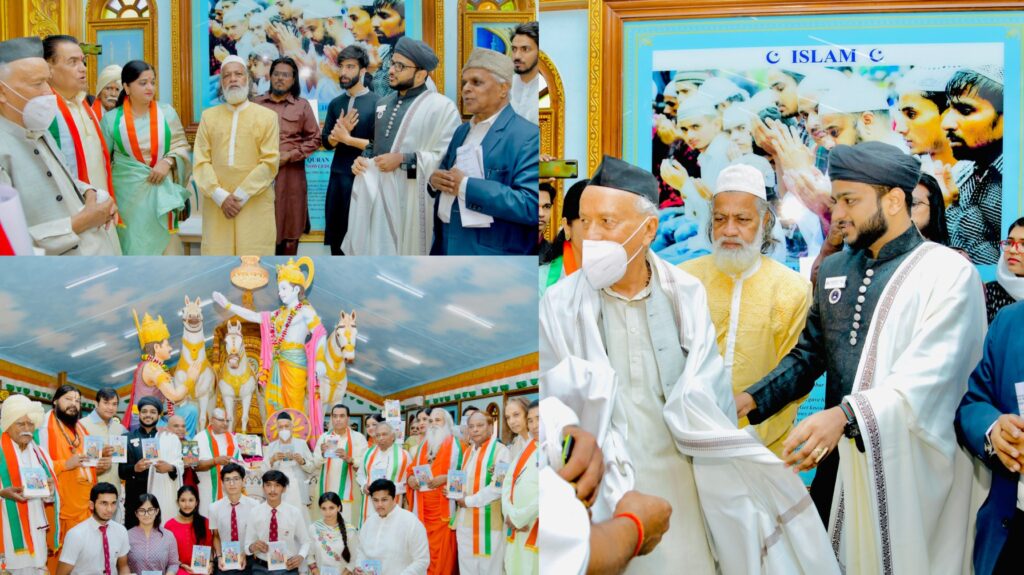 The Hon'ble Prime Minister of India Shri Narendra ji Modi had recently stated that, 'I have nothing more valuable to give and the world has nothing more valuable to get than the Shrimad Bhagwad Gita.' In response to this statement of our Hon'ble Prime Minister, The institution has decided to distribute about 1.25 lakh copies of Shrimad Bhagwad Gita to students across India and it will be commenced on this day.
Global Peace Ambassadors from the World Peace Centre (Alandi) are carefully chosen leaders from all walks of life to promote peace and harmony on behalf of India around the world. A Global Peace Ambassador's role is to make people aware of the beauty and peace that exist both within and around us. They strive to unite people and work for enduring peace and humanity, especially in conflict-ridden areas of the world, by using their unique talents and gifts to spread joyous acts of service that radiate peace and wholeness throughout the world.
Global Peace Ambassadors are the Messiah for the entire humanity. They reach out to world leaders and people across the globe which includes government officials, UN Diplomats, NGOs, people from the private sector, global influencers, with the eternal message of peace. They compel and enthuse world leaders to go beyond divisive and hegemonic approaches.
With the aim and mission of the UNESCO Chair for Human Rights, Democracy, Peace, and Tolerance in fostering a culture of Peace and Harmony, Peace Ambassadors help the world understand the scientific as well as the spiritual component of life, resulting in a comprehensive peace-loving global community.
All these dignitaries assembled before the start of the conference at the Shrimad Bhagwad Gita Bhavan for a multi-religious procession for peace towards the World Peace Dome to show religious unity. There were groups based on religion in the procession, holding their religious scriptures respectfully and marching together. Along with the other dignitaries, the event was also graced by Shri. Mehboob Abdul Rehman Paithanker, Shri. Akbar Paithanker, Shri. Kadar Attar, Dr. Manoj Kumar Rahee, Member of the World Human Rights Protection Commission – United Nations, and the volunteers of the Zariya Organization, Shri. Ranveer Parth, Kriya Adhikari – The Zariya International, Ms. Vaibhavi Panth, Ms. Nikita Ghule, Mr. Gaurav Gandhi, Ms. Richa Wadhwani, Mr. Harsh Patil, Mr. Satyam Pathak, Mr. Bhavesh Dabi, Mr. Manas Moog, Mr. Ved Acharya, Mr. Krishnansh Vasaniya, and other guests.
In this event Shriguru spoke about Bhagwan Prahlad and Prophet Abraham and how both of them share similar story as they both were thrown in fire but fire didn't burn them, Shriguru told like them there were many beings in the world with similar stories, and when we go deeper and find out the similarities, then there is no difference, it's just humanity.Shriguru Majid Paithankar was later praised personally by the Governor of Maharashtra in the Shrimad Bhagwad Gita Bhavan for the outstanding work he did in the field of uniting science & spirituality and congratulated him.