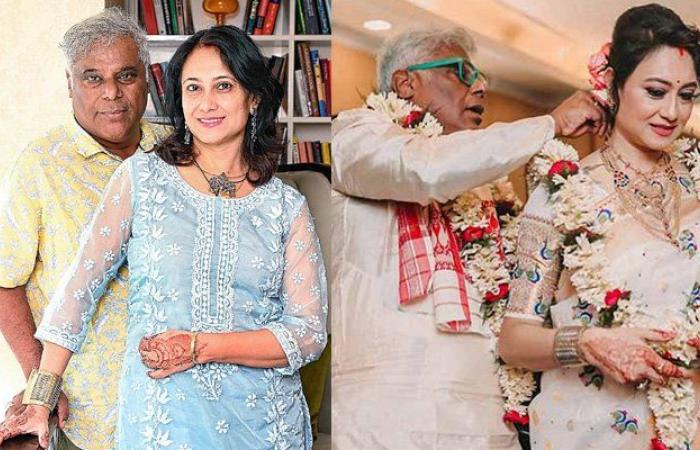 Love stories often come with their share of challenges, and when they involve public figures, they are inevitably scrutinized by the public eye. Rupali Barua, the wife of acclaimed actor Ashish Vidyarthi, recently spoke out about the negativity they faced on social media after their wedding earlier this year. She shared her thoughts on how she handled the situation with grace and strength.
Ashish Vidyarthi, known for his versatile acting skills, had previously been married to Piloo Vidyarthi, and their separation had garnered attention. Rupali Barua, his current wife, shed light on her perspective during an interview with Behindwoods TV.
"I did not give a da* because I don't know those people. They have seen something that is very un-obvious, for normal people, because they don't know about it. We will not go and say things, give clarity,"* Rupali candidly expressed. She continued, "It's okay for them to think like that because they don't know about it. It didn't affect me so much because I didn't read the comments so much. My family knows my truth, My close ones are supporting me. I don't need any other validation. It doesn't matter."
Rupali's resilience in the face of criticism showcases her strong character and her ability to rise above negativity. Her focus on her truth and the support of her loved ones is a testament to her inner strength.
Ashish Vidyarthi, in the same interview, commented on the tendency of people to pass judgment on others' lives, stating, "It's very easy to pass a judgment. Hindi me there's a proverb, dusro ka ghar jab jalta hai, log apne hanth sekte hai (one tends to seek opportunities out of others' misery)."
Ashish also revealed that when he and Piloo decided to separate, they included their son, Arth Vidyarthi, in the decision-making process. Rupali expressed her warmth and admiration for Arth, describing their interaction as pleasant and natural: "He's a very sweet boy. We had a very good conversation, nothing serious, just discussing what he is doing. It was just general talk; it was very normal. He's a very sweet boy, we met very warmly. It was a short but very nice encounter."
Ashish and Rupali have referred to their second chance at love as a 'blessing' and clarified that their union was not an attempt to prove any point to anyone. They celebrated their love with an intimate wedding ceremony in Kolkata in May 2023.
Ashish Vidyarthi's previous marriage to Piloo Vidyarthi, daughter of actor Shakuntala Barua, came to an end in 2022. They continue to co-parent their son Arth, who is currently pursuing his career in Texas.
Rupali Barua's fearless attitude in the face of criticism and her ability to maintain a cordial relationship with Ashish's son exemplify the resilience and maturity of these individuals in the world of entertainment. Their story serves as a reminder that love can find a way, even in the midst of public scrutiny.
Sources By Agencies