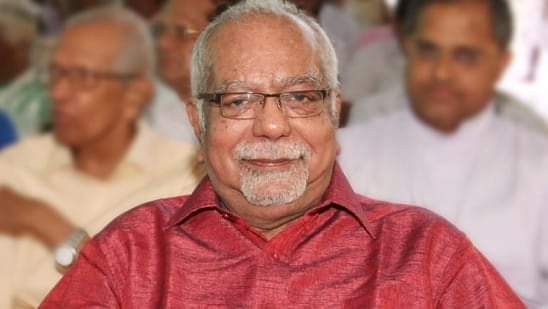 Kakkanad, Kerala – Malayalam cinema has lost one of its most iconic figures as acclaimed filmmaker KG George breathed his last at the age of 77. The filmmaker, known for his exceptional storytelling and cinematic brilliance, succumbed to the aftermath of a stroke at his residence in Kakkanad, Kerala, on a somber Sunday.
KG George leaves behind a rich legacy of impactful cinema that has left an indelible mark on the hearts and minds of cinephiles. He is survived by his wife Selma George, who undoubtedly stood as a pillar of support throughout his illustrious career.
A Storied Career
KG George's filmography is a testament to his creative genius. He crafted cinematic gems that spanned genres and captivated audiences with their depth and innovation. Some of his notable works include "Swapnadanam," "Oolkatal," "Kolangal," "Mela," "Irakal," "Yavanika," "Lekhayude Maranam Oru Flashback," "Adaminte Vaariyellu," "Kathakku Pinnil," "Mattoral," "Panchavadi Palam," and "Ee Kanni Koodi," among others.
Awards and Recognition
George's contributions to the world of Malayalam cinema were duly recognized with accolades and awards. He secured the prestigious Kerala State Film Awards for several of his creations, including "Yavanika," "Swapnadanam," "Adaminte Vaariyellu," and "Irakal." In 2016, he was honored with the JC Daniel Award, a testament to his lifelong dedication and immense impact on the Malayalam film industry.
The news of KG George's passing has sent shockwaves through the film fraternity and among his countless admirers. He will forever be remembered not only for his cinematic brilliance but also for the profound impact he had on shaping the landscape of Malayalam cinema.
A Loss to the Industry
KG George's demise is an irreplaceable loss to the world of cinema, leaving a void that will be felt for generations to come. As the Malayalam film industry mourns the loss of a visionary filmmaker, fans and colleagues alike reminisce about the masterpieces he leaves behind, which will continue to inspire and entertain audiences for years to come.
The legacy of KG George lives on through his films, a timeless treasure trove of storytelling that will ensure his name is forever etched in the annals of Malayalam cinema history.
Sources By Agencies