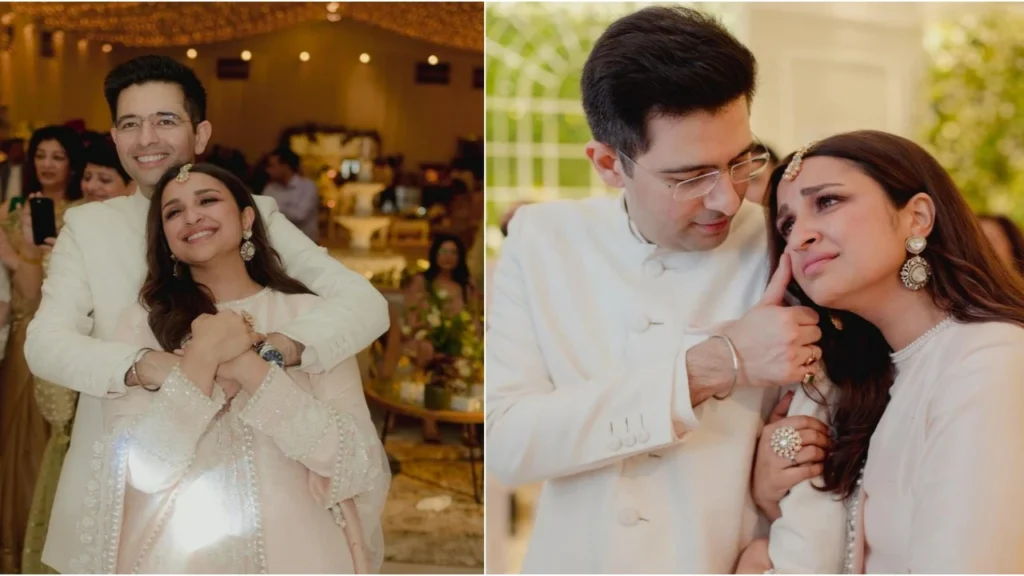 Love knows no boundaries, and it certainly transcended realms as Aam Aadmi Party (AAP) leader Raghav Chadha and Bollywood actor Parineeti Chopra exchanged their vows in a splendid wedding ceremony at the magnificent Leela Palace in Udaipur on a picturesque Sunday.While the couple is yet to make an official announcement on social media, sources suggest that the beautiful bride, Parineeti Chopra, donned a stunning wedding outfit crafted by the renowned designer, Manish Malhotra. Fans around the world eagerly await their first glimpse as Mr. and Mrs. Chadha.
In a heartwarming moment captured by ANI, the melodious tune of "Kabira" from the film Yeh Jawaani Hai Deewani played in the background as the couple partook in their marriage rituals.
The wedding festivities were nothing short of a grand celebration. Earlier in the day, the baraatis arrived at the wedding venue on a beautifully decorated boat, a tribute to the Mewar tradition. Distinguished guests included Delhi Chief Minister Arvind Kejriwal and Punjab Chief Minister Bhagwant Mann, who graced the occasion with their presence.
The star-studded guest list featured renowned personalities such as tennis star Sania Mirza, former cricketer Harbhajan Singh, Aam Aadmi Party MP Sanjay Singh, Shiva Sena leader Aditya Thackeray, and the esteemed designer Manish Malhotra. Parineeti's cousin, global sensation Priyanka Chopra, was unable to attend the wedding, but her mother, Madhu Chopra, represented the family with love and blessings.
Prior to the main event, Parineeti and Raghav hosted a sangeet ceremony in Udaipur with a captivating '90s theme. The Punjabi singer Navraj Hans delivered a mesmerizing performance, while guests received personalized cassettes with heartfelt messages. The couple's distinct style was on full display, with Raghav opting for a dashing black Indo-western ensemble, and Parineeti stunning in an embroidered outfit with a beaded cape.
Before arriving in Udaipur for the grand festivities, the couple hosted a soulful sufi night in Delhi for close friends and family members.
Parineeti and Raghav's love story has been a long-standing one. They got engaged on May 13 in Delhi, and the ceremony was attended by several prominent politicians, including Delhi Chief Minister Arvind Kejriwal, Punjab CM Bhagwant Mann, former finance minister P Chidambaram, and Shiv Sena leader Aaditya Thackeray. It's rumored that their romance blossomed during their college years in London.
As the newlyweds embark on this beautiful journey together, fans and well-wishers from around the world send their heartfelt congratulations to Parineeti Chopra and Raghav Chadha.
Sources By Agencies