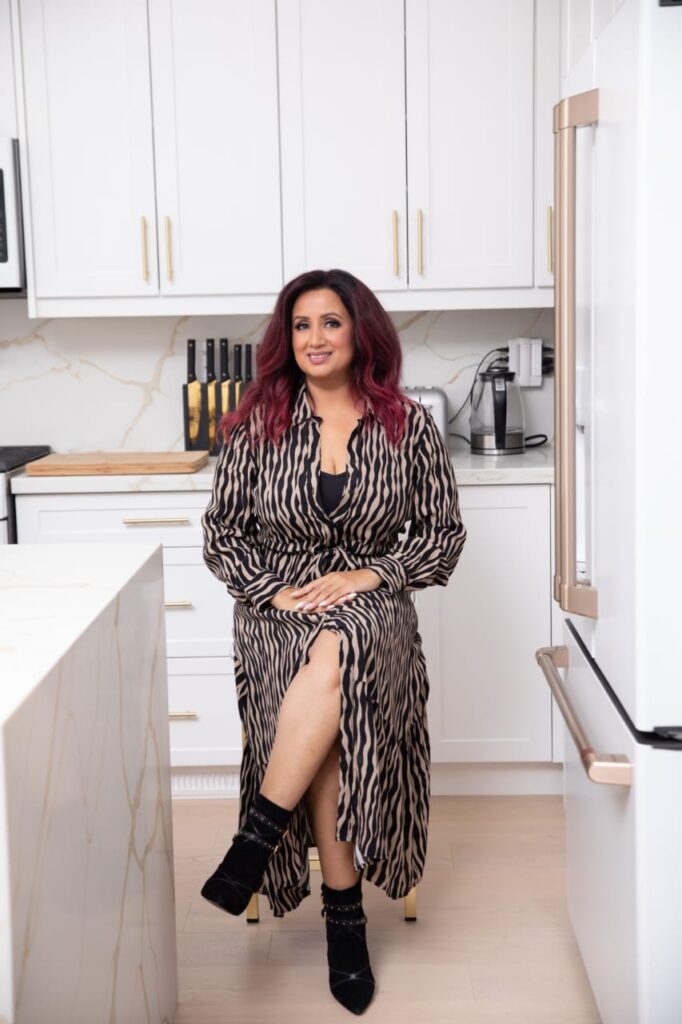 Women who strive for professional success are aware of the necessity of continually developing their knowledge and creativity. Throughout their careers, such women look for additional opportunities. There is no doubt that women can thrive in diverse roles across a wide array of industries if they develop certain skills. One of the talented and versatile women in the field, RAJ GIRN has a multifaceted personality that sets her apart from the rest. She is an Entrepreneur, Media Expert, Confidence Coach, Marketing Consultant in India.
As a true leader and person of confidence, RAJ GIRN believes in leading the way rather than following the crowd. As a result of mastering these skills, RAJ GIRN has inspired thousands of women to never give up on their dreams. A supremely talented woman knows how to strike a balance between a healthy and wealthy lifestyle.
RAJ GIRN is known for his vivacity. Entrepreneur, Media Expert, Confidence Coach, Marketing Consultant, she motivates people with her unique techniques to fuel their success. With her directional wisdom, she encourages women to follow their dreams using out-of-the-box methods. RAJ GIRN is known for her authenticity. In spite of the competition, she does not allow herself to be distracted. As a result, she is more concerned with improving herself and mastering the art of focusing. With these principles, she teaches women they can take action to become the leader they were meant to be!
Here are some questions and answers we caught in an interview with her:-
How have your priorities changed from when you first started?
I have gone from necessity to carving out my destiny.
When I founded ANOKHI (a media and events portfolio comprising: www.anokhilife.com, www.anokhiawards.com, www.theanokhilist.com, www.anokhiprestige.com, www.anokhiverse.com) in 2002, it was after an entire era of my life had ended and I became a divorced, single mother of a 5 year old son. My upbringing hadn't prepared me for this, as I was reared from a very early age to be a wife – who went from her father's house to her husband's house – a trip that took me from my birth country of United Kingdom to Canada, and into an arranged marriage to a man I barely knew and a country I first stepped foot in as an imported wife.
After the divorce, I realized that I had no identity of my own, because I always belonged to someone else (father, husband, and son), so I founded ANOKHI on a quest to find myself. During that time, I've had the unique privilege to do things and accomplish things that I never had even the dream that I could, let alone the reality that I would.
With no media degree, no business degree, no celebrity ins or corporate network base, I started a company that just entered its 20th year of business in North America. My secret sauce? My ability to create, cultivate, and grow relationships. In fact, my entire business is built off of that.
During my 20 year tenure as a multi-awarded media and events entrepreneur, I've interviewed and hosted some of today's most prolific personalities, like: Priyanka Chopra, Salman Khan, Robin Sharma, Jay Shetty, Kim Kardashian, Nicole Scherzinger, Nelly Furtado, but to name a few. I've serviced clients that include: L'Oréal Paris, Garnier, Estee Lauder, Johnnie Walker, Cîroc, and so many more. I've had media coverage from the Wall St. Journal to Entrepreneur and so many more. And I've even gotten letters of acknowledgement from governments, like: the Prime Minister of Canada, Justin Trudeau, the Premier of Canada, and the Toronto Mayor.
Today, after all the unplanned and unforeseen accomplishments, I no longer make decisions based on finding out who I am, but rather, based on who I can help. That's why, during the pandemic in 2020, I founded HE OPEN CHEST CONFIDENCE ACADEMY (www.theopenchesconfidenceacademy.com), to meet the demand of businesses and consumers needing to go online to survive. The academy's role is to coach/consult leaders to build their authority through building personal brands as authors, speakers, and podcasters, getting featured in Forbes, Entrepreneur etc., and creating courses to share their expertise with the world.
Some of my accomplishments: https://www.theopenchestconfidenceacademy.com/about/our-founder/.
Testimonials from celebrities, politicians, and subject matter experts:
https://www.theopenchestconfidenceacademy.com/about/testimonials/.
What inspired you to develop your idea?
ANOKHI out of necessity to create a space for a new generation of South Asians in the west, who identified equally with being Indian and North American.
THE OPEN CHEST CONFIDENCE ACADEMY out of the need to serve businesses and people who needed to find their way online when the pandemic closed the world off from in-person communications.
Knowing what you know now, is there anything you would have done differently when you were first starting out?
I would have had more faith in my abilities, despite not having the education to support my goals. It took me many years to realize that all I needed was to be the idea person and the relationship builder, and everything else could be done by others, and a lot better than I could ever do it. Perhaps I would have accomplished more for my community, but I'll never know now.
How did you decide where to establish your company?
Since I was newly divorced with a 5 year old son, I decided to stay in Canada where my son's father (my ex-husband lived), so that my son would never feel that he is missing a parent.
What challenges did you have to overcome at the beginning of your journey
Two main ones:
One: To convince my community that they needed to support all identities in our culture (social, political, religious, caste, sexual orientation), because as an immigrant community in the west, we needed to adopt the "strength in numbers" philosophy. I strongly believed/believe that to make a mark as an immigrant culture, you have to demand your presence, which requires you showing the power of the collective. The problem was that people didn't warm up to this idea until much later once social media made identity equitable through public accessibility to showcase who we are and why we matter.
Two: To convince corporations that the South Asian community is worthy of their advertising dollars. They initially didn't see the power of our culture. I had to work overtime to present the case of our community as a value proposition to them, because they commonly believed us to not be brand savvy as a purchasing community, until we showed them data on the contrary.
What is unique about your business?
My company, RG Media Enterprises Inc. owns 3 distinct brands (ANOKHI, RAJ GIRN, THE OPEN CHEST CONFIDENCE ACADEMY), all of which operate as silos as well as leverage each other to amplify business opportunities. We are a nimble, boutique operation, where all people who work with us are BIPOC, live all around the world, and 90% of them are freelancers, so our operations are very efficient, allowing us to mobilize changes quickly and service client's very high touch and customized to their specific needs. And we are completely virtual – no physical office, 70% automated, and offer many a la carte services that are fulfilled by a dedicated team of experts and partnered vendors. Moreover, we have accomplished big goals with minimal monetary investment, and the company is 100% owned by me.
What advice would you give to someone who is trying to become an entrepreneur?
Know what you're brilliant at and just do that, and hire (freelance so you're nimble) to deliver all other skills.
Know what you're passionate about and find a way to create a business venture out of it, because the climb is hard, so without passion, it'll be unbearable and you'll be inclined to give up prematurely.
Know your market, based on a combination of data and culture, so you are always making decisions that keep you top of mind and ensure your relevancy with your business ecosystem.
Don't raise money too soon, because you'll have to give up more of your money then you'll be able to keep (in theory, if you are pre-revenue).
Don't raise money when you need it, rather when you don't, because then you won't make the deal in haste, but with a clear, cool mind.
If your choice is to hire passion over skill, hire passion, because you can teach skill, but you cannot teach passion.
Create an advocacy culture immediately, because it's the quickest way to grow community, and building community will help you create brand and business amplification faster and deeper (hot/warm audience) than paying for it (advertising to a cold audience).
Make sure that people want what you are selling – pre-launch due diligence is a game changer and will save you from unnecessary losses.
Don't sweat the small stuff, because the big things are what determine the success/failure of your enterprise and you'll need energy for that.
What strategies did you first use to market your business?
Guerilla marketing – word of mouth, partnerships, collaborations, because money was scarce and time was in abundance.
How do you define Success?
When my mind is free, my body is strong, my heart is loved, and my spirit is elevated.
What have you enjoyed most about starting your own company?
The skill, community, service, and legacy it has allowed me to step into, that I would never have known deeply if I hadn't become my own boss. And what's better than being a creator – ask God, S/He knows!
What qualities do you think makes a good entrepreneur?
Being a leader not a boss.
What are you working into now?
ANOKHI just turned 20, so I'm planning the launch of a metaverse at www.anokhiverse.com to celebrate it and a 3 day, in-person event in Toronto, Canada.
THE OPEN CHEST CONFIDENCE ACADEMY just turned 2 and we launched a brand new website with many more products and services to meet the growing needs of companies and people who need assistance to grow their brands.