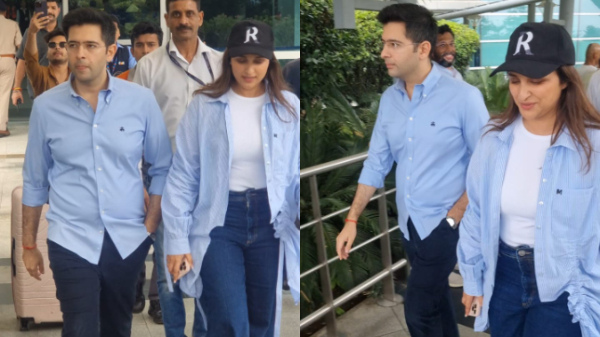 The capital city of Delhi buzzed with excitement as Bollywood actress Parineeti Chopra and Aam Aadmi Party leader Raghav Chadha arrived at the Delhi airport, marking the beginning of their much-anticipated wedding celebrations. The couple, who got engaged a few months ago, is set to embark on a memorable journey culminating in their wedding in Udaipur on September 24.
In a heartwarming display of togetherness, Parineeti and Raghav were spotted at the airport donning matching blue shirts, showcasing their shared joy and unity. The actress, known for her versatility on the silver screen, wore a black cap adorned with the letter 'R,' signifying her bond with Raghav Chadha.
The festivities officially kickstarted with an ardaas function in Delhi on Sunday, followed by a week-long schedule of pre-wedding events, including intimate gatherings for close family members. Subsequently, the entire family, along with the bride and groom, will make their way to Udaipur for the grand wedding celebration.
According to insiders, the wedding promises to be a luxurious affair. The couple's wedding card, which recently surfaced online, revealed plans for a 'Pearl White Indian Wedding' at The Leela Palace in Udaipur during the day on September 24. The celebration will continue with a reception at The Leela Palace's Courtyard, featuring the theme "A Night of Amore." Prior to the wedding, a welcome lunch and a '90's Edition' party are scheduled at The Leela Palace.
Parineeti and Raghav's engagement was a star-studded affair attended by Bollywood celebrities and prominent politicians. Parineeti's cousin, global icon Priyanka Chopra, graced the event and performed the rituals as an elder sister. Priyanka is expected to be a significant presence at the wedding celebration, adding a touch of glamour to the proceedings.
Furthermore, politicians such as Delhi Chief Minister Arvind Kejriwal and Punjab Chief Minister Bhagwant Mann, who attended the engagement, are anticipated to join the festivities, particularly the wedding reception in Delhi.
As the wedding of Parineeti Chopra and Raghav Chadha unfolds, fans, friends, and well-wishers eagerly await the memorable moments and celebrations that are sure to grace this union of Bollywood and politics.
Sources By Agencies