According to the India Skills Report 2015, it was established that India lacks in the development of skills. Of all the students applying for roles in the labour market, a mere 1/3rd of the number had the appropriate skills to match the requirement of the employers. Though they have sufficient manpower but they are not skilled enough to get a job. In India, there exists an enormous skill gap between the demand from industries based on rapid economic growth and the kind of skill sets the young people acquire through various education and trainings.
According to 12th Plan Document of the Planning Commission, 85 percent of the labour force in India have educational qualification up to secondary level within which 55 per cent have an educational qualification only up to the primary level and merely 2 per cent of the workforce has any vocational training. This gap between the demand and supply not only affects economic growth, but it also prevents the inclusive growth of the economy as a whole. Hence, National Council of Educational Training Institute and Research(NCETIR) is one of few renowned autonomous institutions accepting the responsibility to fill such skill gaps and take newer initiatives for bridging those gaps in order to ensure inclusive growth.
NCETIR is an autonomous institution under Regd sec 8 Rac, Incorporated Under Ministry of Corporate Affairs Government of India. NCETIR is working on the Skill Development Scheme of the Government of India since 2017 which is a unit of Hone Skill Welfare Foundation. The central office of NCETIR in Delhi is well established which is registered under Indian Societies Act 1860, Indian Trust Act 1882, Sec.8 RAC, Regd. by The Ministry of corporate Affairs Government Of India, Department Of Labour NCT Delhi , under article 29 and 30 (1) of Constitution of India And incorporated under the legislation of Government of India .
NCETIR aims to minimize the shortfall in trained and qualified young workforce which will prove to be massive assets of our country. Under numerous eminent programs like "Department of Agriculture", "Department of It and Computer" and "Department of Fire Safety", NCETIR is providing top – notch platform for youth to acquire the excellent skills .
NCETIR encourages and promotes Quality Education, Training and Research in Health and Medicine and provide Affiliation to institutes registered with them. They register qualified College/University or Individuals for world-class training in Paramedical Science and futuristic practice.To achieve this herculean task of resolving the gap between demand and supply of skilled professionals, NCETIR is in talks with various prestigious institutions to launch skill universities towards the goal of youth empowerment and financial sustainability. What sets NCETIR apart is the fact that they are bringing the top-notch education at extremely affordable prices.
NCETIR not only provides quality education but also ensures that the educated and skilled youth gets placements. The placement and internship cell of NCETIR offer their students with best training and internship programs under the best facets of corporate sectors. Apart from this, National council of educational training institute and Research has already been connected with top segments of business market that offers their students with world class of training, placement and internship programs including IT, finance, banking, automobile, education, media, medical and many more.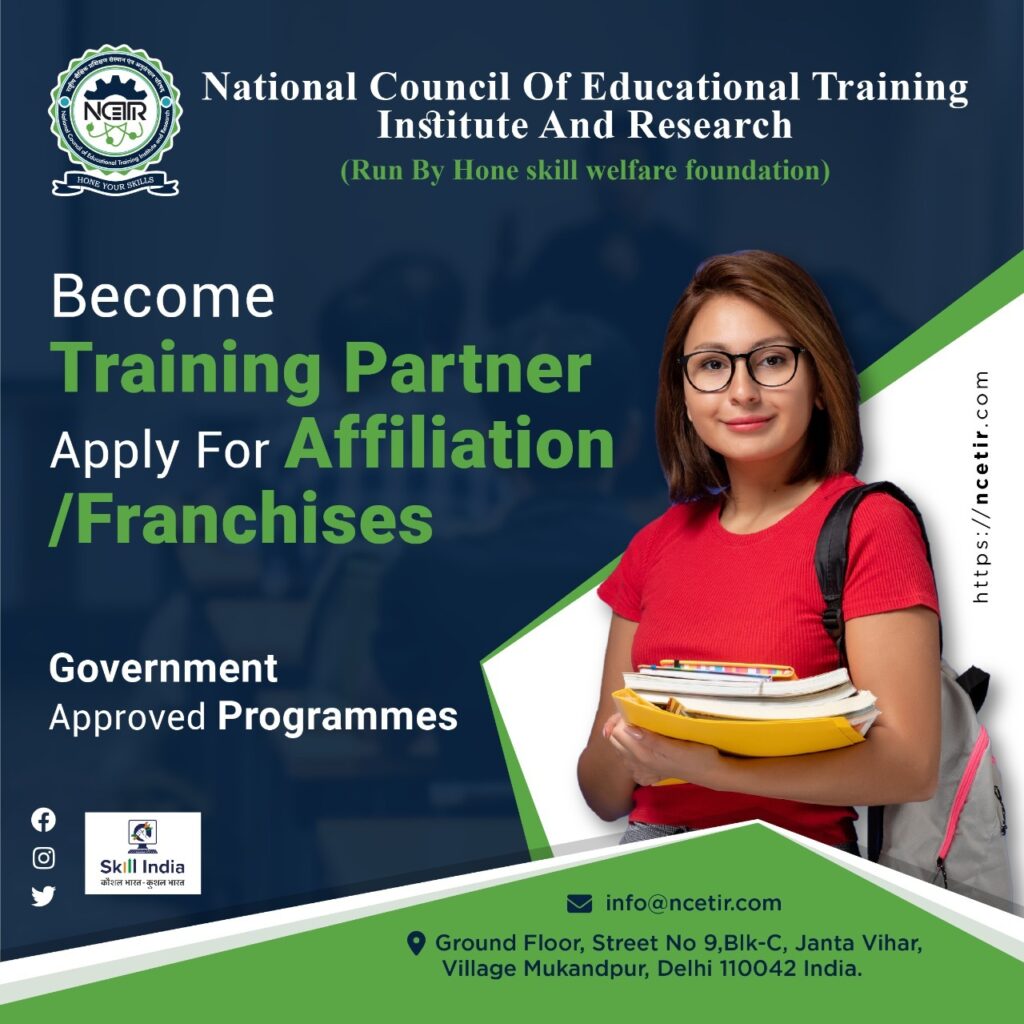 Team of training and placement cell, is always stimulated and sensitized, to cover with latest and updated news about the corporate sector in order to provide best opportunity to their esteem students. They always feel proud and honor to carry with finest and outstanding opportunities for students studying in their prestigious institutions in respect of their career and professionalism.
NCETIR is solving a major issues in India and hence deserves support and appreciation. They appreciate private institutions to unite with them under this huge nobal cause and achieving their aims together.
Website = https://ncetir.com/
Facebook = https://www.facebook.com/ncetirindia
Instagram = https://www.instagram.com/ncetirindia/