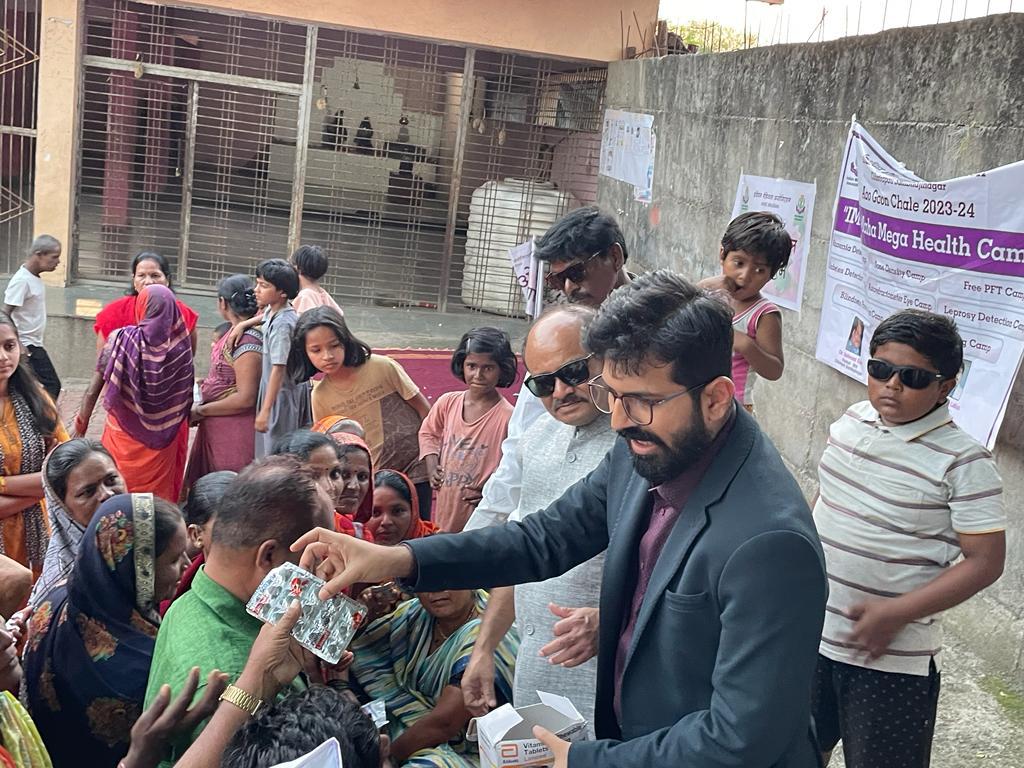 Comprehensive Care Initiative: IMA Rescues Pimpalgaon Village Amid Conjunctivitis Epidemic
Legacy of Service: IMA Aurangabad's 13th Intervention under Aao Gaon Chale project
The Indian Medical Association (IMA) team achieved a significant milestone today by extending crucial medical assistance to the adopted village of Pimpalgaon. With the prevailing conjunctivitis outbreak in the district, the IMA team conducted comprehensive eye checkups and distributed vital eye drops and medications to the residents during their visit.
In addition to addressing the urgent eye health needs of the community, the IMA also undertook a vital public awareness campaign to dispel misconceptions surrounding the ongoing conjunctivitis outbreak. This campaign aims to empower the village with accurate information and best practices to prevent the spread of the infection.
Furthermore, the IMA team conducted a Comprehensive Blood Count (CBC) for female residents, aiming to assess the prevalence of anemia in the village. This proactive approach underscores IMA's commitment to the holistic well-being of the community. As a part of their follow-up visit, the IMA will be distributing medicines to female residents with lower hemoglobin levels, ensuring comprehensive care for the villagers.
The success of this mission would not have been possible without the dedication of the IMA team and the support of the All Aao Gaon Chale family, including Dr Yashwant Gade, Dr Anupam Takalkar, Dr Archana Bhandekar, Dr Rajeev Mundada, Dr Yogesh Lakkas, Dr Anjali Gade, Dr Asawaree Takalkar, Dr Sambhaji Chintle, and Dr Prafull Jatale. Their expertise and commitment have been instrumental in making a meaningful impact on the health and well-being of the residents of Pimpalgaon.
"We are deeply committed to serving the health needs of our adopted village and are proud to have made a positive difference in their lives. The IMA remains dedicated to our mission of providing accessible and comprehensive healthcare to communities in need," stated Dr. Yashwant Gade, President of IMA Chh. Sambhajinagar.
Dr. Anupam Takalkar, Hon. Secretary of IMA Chh. Sambhajinagar, added, "Our team's collaborative efforts and the support of our senior and reputed consultant from the city have enabled us to carry out this vital initiative. We are determined to continue working towards the betterment of public health in Pimpalgaon and all the adopted villages."