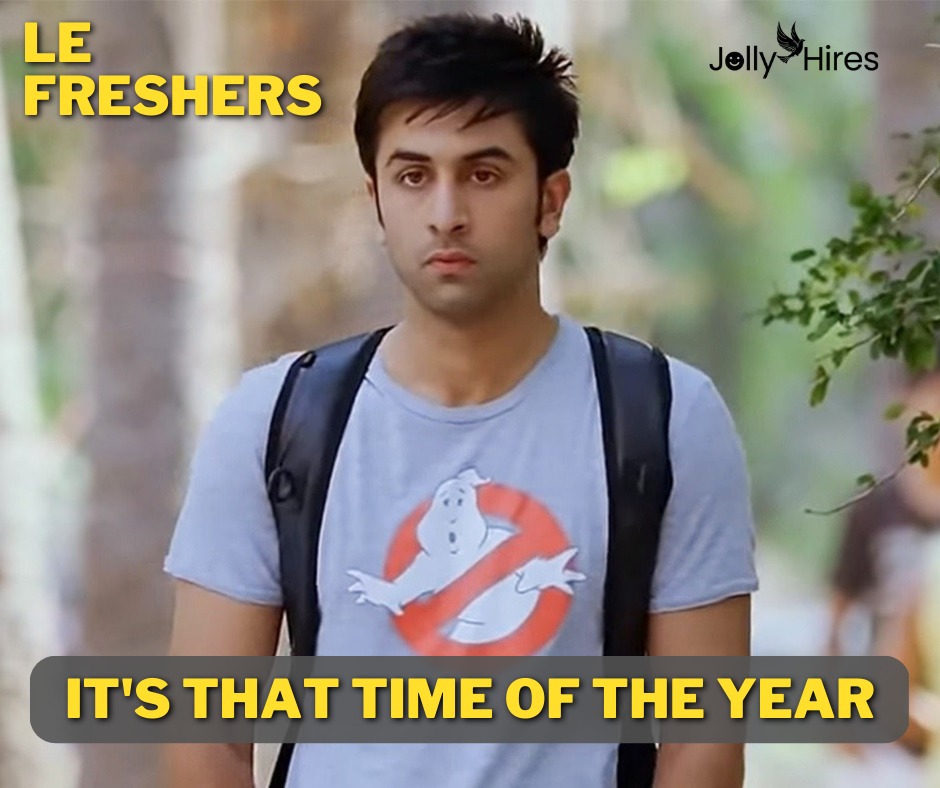 "Kya Scene hai Jobs ka" is the question that lives rent-free in the head of every college student in the last Semester of their course. It feels like this question is just 'in the air.' No kidding, the stress is real!
When you're in the last Semester, all that your parents, neighbors, and relatives want to know is when you're getting placed, and the only question you want to ask your friends and the Training and Placement Officer (TPO) of your college is, "When are we getting placed?"
It's the time when you keep an eye on every company coming to your college and bringing with it the promise of a 'good job'; it's when every student creates a LinkedIn account and sends connection requests to everyone they can find who works at their dream company; it's the time when you polish your resume and post it to all job portals in the hopes of hearing from a recruiter.
Undoubtedly, it is the busiest time of the year for all college students who wait in line with one foot out, hoping that when it is time to move out the other foot and go, they will have at least one decent offer letter in their hands.
We understand that all of this can be scary but starting early and being aware of where to hunt for the best job prospects will boost your chances of landing a good job.
So, want to reach the address of your dream job? Check out all the routes here!
Be sure to give your college placement drives their due respect!
Always take advantage of college placement options! Nowadays, almost all reputable institutions organise campus recruitment events for their students, and through these events, many students are chosen by reputable companies. Campus placements are also advised since the college TPO handles the majority of the work for you in locating and inviting companies to campus; all you need to do is complete the application and attend the interview.
Since you are competing with your college classmates rather than with students at the national level, there is less competition to land the position here.
However, you should expand your job search beyond campus placements as well, because, let's face it, your dream company would rarely come to the college and the ones that do come with average offers. So, if you want to grab a good package, you must put in the effort to search for opportunities outside of college.
Linkedin profile, hai? To use bhi Karo na!
Finding a job won't be all that easy if your LinkedIn page is dormant and simply has connections to your friends. For you to stand out on LinkedIn and be discovered by employers who can hire you, your profile must shine. So, having an active presence on LinkedIn, an updated profile that displays badges from skill assessments, endorsements, and prior certifications, and a strong professional network that can support and "recommend" you in your job search are the keys to landing a great job through LinkedIn.


3. Look out for naukri on naukri.com!
Among job seekers, Naukri.com is a well-liked employment website. To receive job recommendations, apply for positions, and receive calls from recruiters, you can register and set up your profile on the website. Keep in mind that the secret to success is a thorough profile with current and correct facts!
Don't shy away from asking for 'referrals.'
Believe it or not, job referrals can work wonders in your job search process. But for that to happen, you must be a part of a strong community that can recommend your name for a job vacancy. The answer to, "But where will I find this community?" is straightforward. It can include your college seniors, alumni, people from past internships, attendees from conferences and events, and your connections from LinkedIn. All these can provide you with job referrals.
Our piece of advice, "Naukri ka sawaal hai dost, sharam hatao and ask it out!"
5.) Bas ek Digital Profile on JollyHires Sabke bara bar hai
Although people have started mentioning their LinkedIn profile link on their resume, more often than not, the links are not clickable and what ends up is your resume stacked on the Recruiters' desks. The next-gen Job search app JollyHires produces your digital profile on entering all your basic details, education, images of accomplishments, social media links etc and whenever your Digital Card is shared with anyone, they get to view not only your resume but on clicking on your social media links, they also land straightaway to your various handles and get to see your work and the complete you that is not limited to just your college degree. How cool is that now!
The routes mentioned above can help you find the address of your Dream job, so make sure to check out them all, and thank us later!