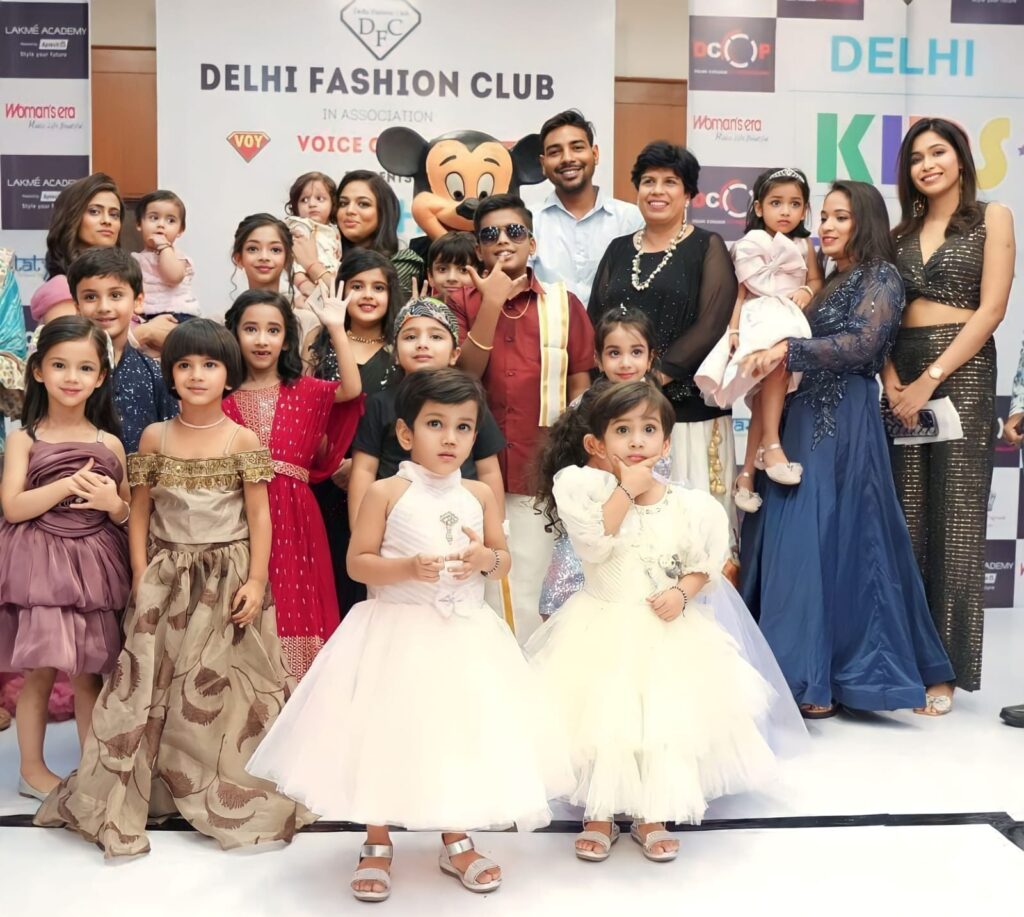 It's the time of rainy season in Delhi, Rain reminds everyone of their childhood moments when they used to enjoy with swings and play with the rain drops, to celebrate the season with the theme to promote women empowerment & the talent of kids, Delhi Fashion club in association with THE VOY Voice of youth (Youtube channel) presented "Delhi Kids festival" season 2 at YMCA international hotel in Connaught place, New Delhi on 5th august 2023.

Delhi Kids festival is an initiative to promote women empowerment, celebrate the bond of love between mother and child & also give wings to kids by providing them a platform to show their talent, this show had special segments like Mom & me walk, Kids walk & talent round.
Guest of honour for this Event was the Asian marathon Legend Mrs. Sunita Godara and Mr. Joshua Jena, President, Y men International.
The Judges/Jury includes Mrs. Richa Mehta who is well known model cum actor from Delhi and also runs social innovation "Ear to Hear" for women empowerment and Mrs. Rajni Subba, President, Exquisite pagents. This event also witnessed International special guest Miss nonika from USA. All enjoyed the show along with encouraging young talents & parents for great participation, they also shown gratitude to the organizing team and chairman of delhi fashion club for creating a platform which promote women empowerment and kids talent promotion.
Show organizing team includes Mr. Harshit Dhingaun, show director who is the chairman of Delhi Fashion club and also a youtuber with channel THE VOY which have more than 10 Million views and about 200k Social media following, Mr. Omender singh done show choreography & backstage along Tatyam School of design students, Thamin from Manipur was style coordinator & Miss Zuchanbeni Tungoe from Nagaland was the Event manager who specially came for the event.
Womansera was Magazine Partner, Lakme academy as the make up partner, DCOP as photography partner And Tatyam institute was backstage partner.
Ms. Gazal arora was the official host of the evening, Miss simran and Raj from Tatyam act as the Backstage Manager for the show, PR partner includes Kaushal from Shine Delhi News. This show was supported by New Life society NGO and YMCA.. Next show DFC s planning in December.

Delhi Fashion club is an association appreciated by govt. of India & founded in 2015 working for "fashion for a cause" at that same time providing services in field of fashion, events & Production.

DFC is also planning to launch more such initiative which promotes women empowerment, textiles, handloom & young fashion entrepreneurs. DFC is also doing shoot production and groom young models with portfolio shoot and workshops.For more information designers & models may check the website http://www.delhifashionclub.org