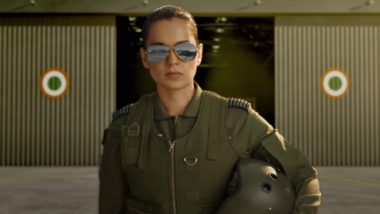 On the occasion of Gandhi Jayanti, Bollywood powerhouse Kangana Ranaut, in collaboration with RSVP Movies, shared a captivating teaser of her upcoming film Tejas. In this highly-anticipated movie, Kangana takes on the role of an Indian Air Force pilot, and her portrayal promises to be nothing short of fierce.
The teaser, released on X (formerly known as Twitter), showcases Kangana Ranaut dressed in a pilot's flying suit, exuding confidence and strength as she prepares to take off from an Air Force station. Kangana's fauji avatar in the short clip has left fans eagerly anticipating the film's release.
The movie's makers unveiled the teaser with a statement that read, "She is ready to take off for the love of her nation kyunki agar Bharat ko chhedoge toh chhodenge nahi (If you touch India, she will not leave you). Trailer out on Indian Air Force Day, 8th October… Tejas In cinemas on 27th October."
Kangana Ranaut, speaking about her role in Tejas, expressed her admiration for the brave women in uniform whose sacrifices often go unnoticed. She shared in a 2020 interview with Mumbai Mirror, "Tejas is a film where I have the honor of playing the role of one such Air Force pilot who puts country before self. I hope we instill a sense of patriotism and pride in the youth of today with this movie. I'm looking forward to the journey with Sarvesh and Ronnie on this one."
Originally scheduled for release in December 2020, Tejas has faced several delays. Kangana had initially announced the film's release date in August 2020, expressing her excitement for this project that celebrates the sacrifices and heroism of the armed forces. The film was set to release on October 20, alongside Ganapath, a movie directed by Vikas Bahl and featuring Tiger Shroff, Kriti Sanon, and Amitabh Bachchan in leading roles. However, Tejas will now hit the theaters on October 27, promising an exhilarating cinematic experience.
Kangana Ranaut's Tejas is not just a film; it's a tribute to the indomitable spirit and dedication of the Indian Air Force, as portrayed by one of Bollywood's most versatile and talented actors. Mark your calendars for October 27 to witness the sky-high aspirations and valor of our nation's brave pilots in this cinematic masterpiece.
Sources By Agencies