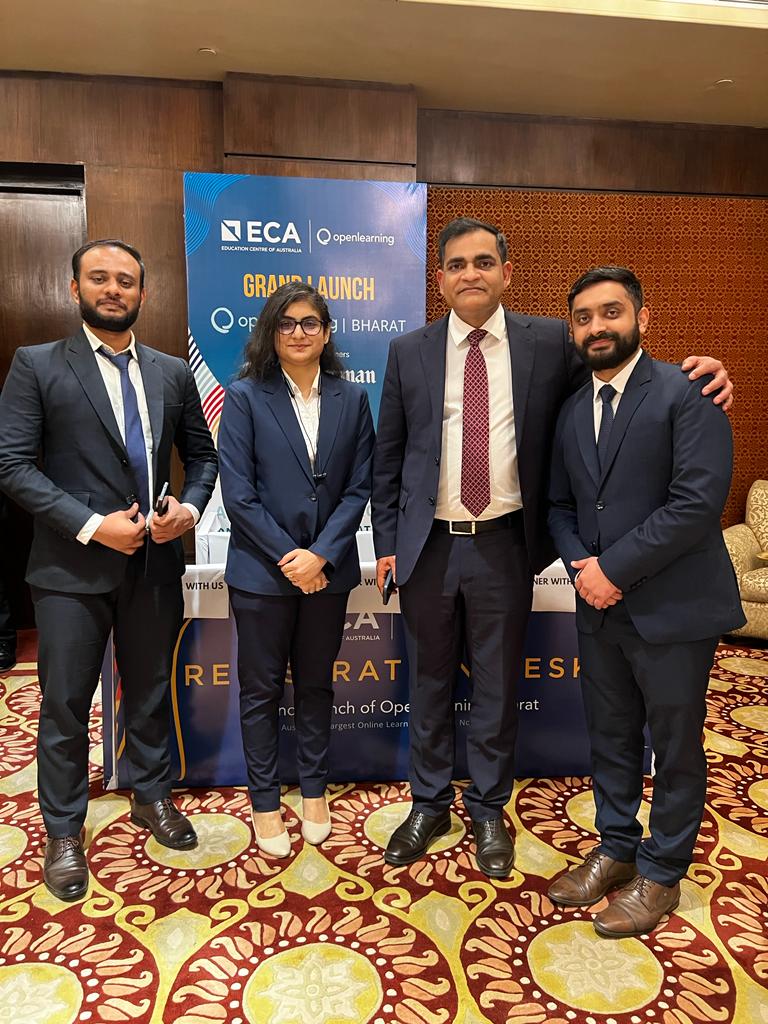 New Delhi, July 1, 2023 – OpenLearning Bharat empowered by Education Centre of Australia (ECA Group) launched in the Indian market to transform the education landscape. This significant occasion, scheduled for July 1, 2023, has finally taken place at the prestigious Taj Palace in New Delhi, marking a significant step towards realizing the government's vision of 'India a Vishwa Guru' (India, the World Leader) in education.
OpenLearning Bharat, an initiative backed by the Education Centre of Australia and led by Group CEO Rupesh Singh and India CEO Rajesh Singh, has emerged as a prominent force in the global education sector offering an inclusive and accessible learning ecosystem that transcends boundaries and empowers students from all walks of life. Leveraging cutting-edge technology and drawing upon the expertise of top educators, the platform is designed to unlock the full potential of every student, nurturing their talents and guiding them towards success.
The mission is to bring about a revolution in higher education and online learning in India. While online learning has seen a remarkable surge in participation, the cost of accessing quality education continues to be a major obstacle for students from lower and middle-class backgrounds. This event seeks to tackle the critical issue of ensuring sustainable and expanded access to affordable world-class education for students in India.
The launch event at Taj Palace has bought influential figures from renowned universities, leading corporations, education service providers, expert consultants, and media outlets, highlighting the widespread interest in advancing online education in India. Their presence underscores the importance of expanding accessible and world-class education for students across the nation.
OpenLearning, with its extensive reach and reputation as the largest e-learning platform serving over 5 million students globally, has gained the trust of 300 of the World's top 3 % International universities.
OpenLearning Bharat offers a diverse range of highly sought-after courses, including Artificial Intelligence, Data Science, Machine Learning, Cybersecurity, and more. These courses have gained significant popularity due to their relevance in today's digital age and the growing demand for professionals in these fields. By providing comprehensive and up-to-date training in these areas, OpenLearning Bharat aims to equip students with the knowledge and skills necessary to thrive in the rapidly evolving technology industry. Whether it's understanding the complexities of AI, harnessing the power of data analysis, or ensuring the security of digital systems, OpenLearning Bharat's courses empower learners to excel in these cutting-edge disciplines.
Rupesh Singh, Founder & CEO, Education Centre of Australia (ECA Group), said, "India's rapid growth in the online education industry presents a remarkable opportunity for the nation to establish itself as a global leader in education. At Education Centre of Australia (ECA Group), we are excited to be part of this transformative journey. As founder of ECA Group, I firmly believe that access to quality education should not be limited by financial constraints. OpenLearning Bharat, with its in-demand courses in Artificial Intelligence, Data Science, Machine Learning, Cybersecurity, and more, aims to bridge the gap and empower students from all backgrounds".
Rajesh Singh, Chief Executive Officer, Education Centre of Australia (ECA Global), said, "Together with the Ministry of Education and other esteemed institutions, we are committed to realizing Prime Minister Narendra Modi's vision of making India a Vishwa Guru. Through our collective efforts, we will unleash the potential of Indian students, fostering a knowledge-driven society and shaping the future of education in India and beyond."
Adam Brimo, Founder and Group CEO of OpenLearning, said, "The surge in online learning is astounding, with a significant rise from 2.679 crore individuals in 2017 to 14.6 crores in 2023. By 2027, we anticipate a staggering 24.4 crore Indians studying online. This exponential growth highlights the transformative impact of online education, making it an increasingly popular choice for millions of learners nationwide."
The launch event of OpenLearning Bharat was a landmark occasion that unveiled a groundbreaking platform, bringing world-class education and innovative learning experiences to Indian students. The collaboration between the Education Centre of Australia and Indian universities for OpenLearning Bharat signifies a transformative shift in India's education landscape. Leveraging cutting-edge Learning Management Systems (LMS), this partnership enables universities to deliver effective and comprehensive learning experiences to students. Moreover, ECA offers Indian universities opportunities to conduct international programs in cutting-edge technology and management domains, fostering collaboration and innovation.