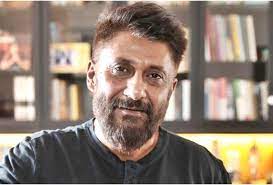 In a recent interview with News18, acclaimed director Vivek Agnihotri shed light on the challenges he has faced while trying to secure financial backing for his much-anticipated film, 'The Vaccine War.' The film, touted as India's first-ever bio-science movie, has been generating buzz for months but appears to have been overlooked by the film industry.
Agnihotri expressed his frustration, stating, "If you take a look at the list of upcoming films and the most anticipated releases put forth by news channels and newspapers, none of them include 'The Vaccine War.' Since the last nine months, people were aware that we're making this film."
He continued by sharing a disheartening experience, saying, "This morning, an eminent trade analyst sent me one such list of the expected films of this month and they stated that the next big hit will be another film that's also releasing on September 28."
The lack of recognition for 'The Vaccine War' in industry circles has left Agnihotri with no choice but to contemplate self-funding the project. He expressed his frustration by stating, "That list of releases didn't even include the name of our film as if we don't even exist. If we don't exist, how will anyone even finance our film? Aise situation mein kua khud khodna padhta hai aur paani nikalna padhta hai (In this situation, I will have to dig the well and also take the water out myself)."
'The Vaccine War' is a groundbreaking film that sheds light on the incredible efforts of Indian scientists in the development of vaccines. The movie delves into the untold stories that unfolded behind the scenes during this critical period. Nana Patekar leads the cast as the head of the team of scientists tasked with creating India's first vaccine against Covid-19. The journey is fraught with challenges, from budget constraints to negative media narratives.
The film also features a stellar ensemble cast, including Anupam Kher, Raima Sen, Sapthami Gowda, and Pallavi Joshi, who play pivotal roles in bringing this compelling story to life. 'The Vaccine War' recently had a special screening in the United States, where it received a standing ovation, further highlighting the film's potential.
Despite its undeniable relevance and the powerful story it tells, 'The Vaccine War' continues to face hurdles in gaining industry recognition and financial support. As the film's release date approaches on September 28, Vivek Agnihotri remains determined to overcome these challenges and bring this important narrative to the silver screen for audiences to witness.
'The Vaccine War' promises to be an eye-opening and thought-provoking cinematic experience that sheds light on the incredible efforts of scientists during the pandemic, and it's a story that deserves the support and recognition of the film industry.
Sources By Agencies