Summer is the season of duality – of hot suns and cooling drinks, of dreary days but long vacations, of the scorching sun and the comforting happiness of staying indoors. The perfect companions for when things become too hot to handle are the books – pages and pages of fascinating words woven together, transporting the reader to the perfect lands born out of these authors' imaginations.
My Secret Bookshelf recommends these reads, ranging from fantasy, horror, romance, thriller and inspirational genres.
1) A Garage Sale of Lovelorn Things by Shrutee Choudhary
(Genre: Poetry | Format: Paperback, Kindle | MRP: 199rs | Publisher: Become Shakespeare| Available: Amazon, Flipkart, My Secret Bookshelf)
The best kinds of poems are those that talk about memories – the little trinkets that we hold within ourselves that when expelled would create a beautiful tapestry that both clutters and heals our minds. A book that unburdens the heart, this Garage talks about the things that are lovelorn, and therefore the most loved.
2) A Dose of Space by Mohith Agadi
(Genre: Non-Fiction Science | Format: ebook | MRP: FREE | Publisher: Mohith Agadi | Available: Barnes and Noble)
With the recent leaps in our space exploration, this book is perfectly timed to give the readers more information about the research and findings of space organisations like NASA and ISRO.
Understand the work of these organisations over the years with this book.
3) The Billionaire and the Monk by Vibhor Kumar Singh
(Genre: Fiction Inspirational | Format: Paperback, Hardcover, Kindle | MRP: 250rs | Publisher: Pan Macmillan India | Available: Amazon, Flipkart)
When two men from opposite ends of the life spectrum face the most important existential question, they embark on a journey to find contentment. The billionaire and the monk befriend each other, and in the scenic city of Shangri-La, they discover that the greatest wisdom in life lies in the simple truths. A tale that is, by itself, a journey and an answer.
4) Ruin of the Scarred: Book 1, Sting of Love Series by Medha Nagur
(Genre: Fiction Historical Romance | Format: Paperback, Kindle | MRP: 275rs | Publisher: Notion Press | Available: Amazon, Flipkart)
Action, romance, and a smashing protagonist couple. Set in the British Raj era, this book speaks of the unlikely romance between the girl who became a spy and a prince who refuses to back down. Things quickly take darker turns in this well-woven conspiracy thriller.
When Bidisha does the forbidden thing and falls in love, will that interfere with her duty? Politics, romance, and a moral sense of duty battle each other. Will they overwhelm the young heart?
5) The Land of Nothing by Anushka Kapse
(Genre: Non-Fiction Motivational | Format: Paperback, Kindle | MRP: 295rs | Publisher: Anushka Kapse | Available: Amazon, Flipkart)
Spiritual journeys towards certain destinations are life-altering. When competent, talented modern women like Dr. Vaidehi face the imposter syndrome, doubting themselves, would such a journey help them break through the shackles of patriarchy?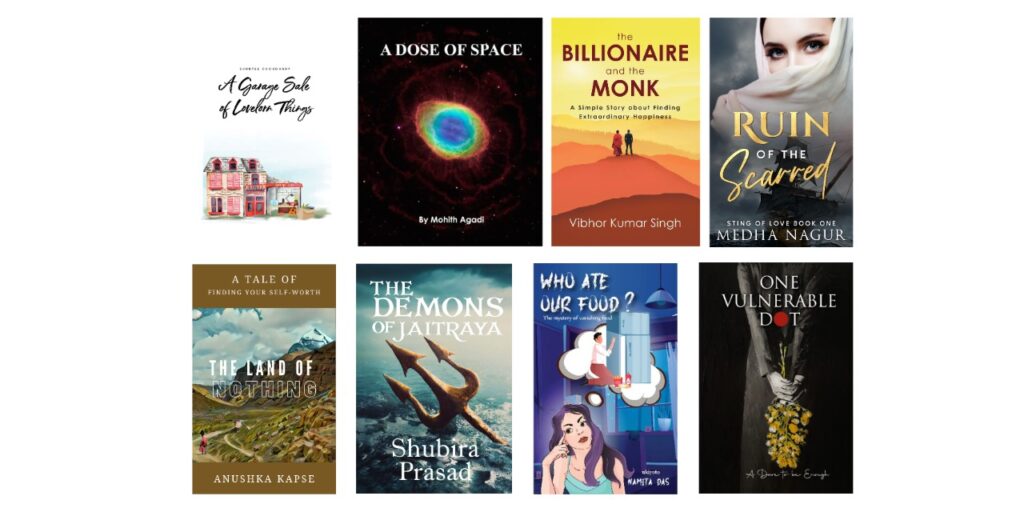 6) The Demons of Jaitraya by Shubira Prasad
(Genre: Fiction Mytho-Fantasy | Format: Paperback, Kindle | MRP: 350rs | Publisher: Vitasta Publishing | Available: Amazon, Flipkart)
Ancient demons unleashed during the Ramayana era plague the Earth during the Christian era. As per the requests of the most fearsome demon of them all, the ten-headed Ravana, warriors are born in each generation to defeat them. Shall good rise over evil? The first book of a compelling trilogy answers that!
7) Who ate our Food? By Namita Das
(Genre: Fiction Horror Comedy | Format: Paperback, Hardcover, Kindle | MRP: 150rs | Publisher: Ukiyoto Publishing | Available: Amazon, Flipkart)
An urban couple gets an irresistible deal on a house in Mumbai. A recently-widowed woman in urgent need of money offers her house in a distress sale. Her husband's untimely death after eating a samosa had shaken her. The couple move in, only to face a weird situation – the junk food they keep in the fridge disappears in the night. Suspicion falls on all the usual suspects but the secret that unfolds leaves them horror-stricken.
8) One Vulnerable Dot by One Vulnerable Dot
(Genre: Poetry | Format: Paperback, Kindle | MRP: 325rs | Publisher: One Vulnerable Dot | Available: Amazon, My Secret Bookshelf)
It is always the common stories that bring forth an extraordinary experience. The book talks about everyone and anyone's journey – the three phases of life, the falling, the rising, and the healing. These poems talk of life and its polarities, weaving a heartfelt story that would aid your catharsis. They bring out the one thing that sets humans apart – resilience in the darkest hours.
Written by Dhivya Balaji on behalf of My Secret Bookshelf. My Secret Bookshelf is an online bookstore that offers the best deals on contemporary literature by Indian authors.