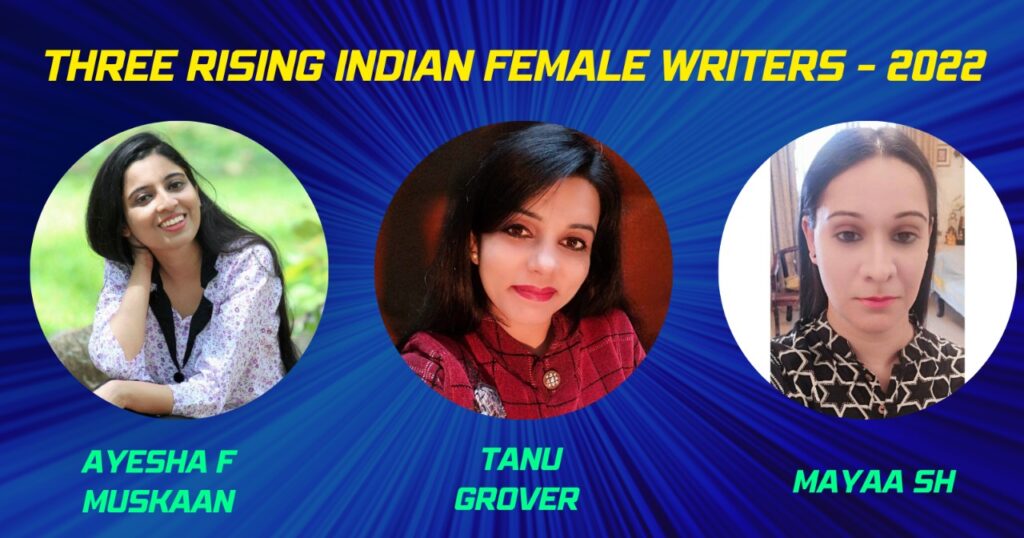 Since the times of Swarnakumari Devi, the first known female novelist of India, females have been at the forefront of literature, culture and knowledge in India. As India continues to produce some of the best-known female writers, authors, and poets, we have chosen three rising Indian female writers who are adding to the wealth of knowledge accumulated over the centuries.
Three Rising Indian Female Writers – 2022 are
Ayesha F Muskaan
Tanu Grover
Mayaa SH
Let us know about each of them and read a magnificent write-up penned by them.
AYESHA F MUSKAAN
Ayesha F Muskaan (MA English Literature) is world-class published writer from Bangalore India. She has won hearts of people around the world with the help of her resplendent poetry. She specialises in writing poetry on societal issues and feminism.
She contributed her poetry to Poet's International Magazine when she was only 19. She has contributed her poetry to three anthologies including Colour My Dreams, We @ 20, and Ecstatic Serenity. She has published two novels, Divine Souls and Messiah, which have recieved rave reviews.
This all accounts for how much she excels in all genres of the literature. By End of December 2022 or 1st week of January 2023, her poetry book "Immortal Empresses" will be out soon.
She has also volunteered for 'YFS' (Youth For Seva) and Amrutha Bindu. Presently she works as a freelance writer and reviewer.
Though she is an epilepsy patient, but she has never allowed epilepsy to prevent her successful march towards education and literature.
A brilliant write-up on MOTHER'S LOVE by Ayesha F Muskaan
A mother's love is as deep as the ocean
as powerful as the phoenix.
Alike the sun, she burns herself
to protect the child.
And with her enchanting voice
she hums a berceuse,
more soothing than the moonlight.
She constantly keeps protecting,loving and nurturing
Her sacrifices help the child to bloom into the most magnificent being.
Well does it matter if the mother is connected by blood, a step mom , surrogate or has adopted you?
© Ayesha F Muskaan
TANU GROVER
Tanu Grover, an award-winning authoress and poetess has captured the hearts of all the literature lovers with her astounding tales and deep insights into the human heart. Her masterpiece, Could Love Be Forever? carries all its readers to a realm of such deep love and fantasy from where no one wants to return ever. Renowned internationally for her belief in true love and a happily ever-after, Tanu is often regarded as one of the most romantic writers of the contemporary times. Her poems too depict her tender side and portray her as a lover of God, a lover of Nature, a lover of life, a lover of dreams, a lover of joy and a lover of love. Though she loves to love everything in life, her Hindi poetry is saturated in the agony of separation which a girl faces from her lover. She has been listed as one of the five most influential women of the era and has also been given the title of 'the new goddess of divine love.' Her works which have received wide acclaim across the globe will forever serve the world of literature by being a source of joy and inspiration for all.
HOW WILT THOU REJECT ME? By Tanu Grover
How wilt thou reject me
If I love thee in solitude?
How wilt thou refuse me
If I kiss thee in my dreams?
How wilt thou run away
If I embrace thee in my mind?
How wilt thou break away
If I trap thy essence in my soul?
How more wilt thou rebuke me?
How more wilt thou reprove me?
You say, 'I'm not thine!'
For me, not pine!'
Yet thou never understand,
Love is never planned,
Love happens not with will
And if once does, nothing can kill!
If I marry thee in my eyes,
If I live with thee in my paradise,
Then will thou not be mine?
And in me, wilt thy love not enshrine?
What difference doth it make
If thou love me not?
What difference doth it make
If thou be with me not?
For our souls art together,
Thou may think whatever,
Our love is not a love
Of this era, but of all eras.
Meet will we in Heaven
And then thou wilt realize,
This body is just a disguise,
And this earthly life, full of lies!
MAYAA SH
Mayaa SH is a multi National Award Winner and a triple World Recorder. Mayaa SH is a Women Empowerment Culturist .She has depicted gender inclusivity and equality through her certifications from the United Nations and powerful writings on Feminism .Her work depicts the identity, economic and social freedom of many .She has co-authored more than hundred plus anthologies and has been featured in several magazines and women oriented like Tejasvi -The Imperishable on Women Power and Honour including few international magazines. Her first poem "The Candle In The Wind" made her win an Award at the National Level. Mayaa navigates many women through stress by deploying talking as a therapy to combat stress and fear . Being an absolute homebody at heart ,yet extroverted, she often fantasies herself as a TEDx Speaker inspiring millions of women all across the globe to live their dreams. She is often referred as Mayaa Tai, Mayaa Audio SH , Mayaa Di, Pushpa The Fire , Padma Of The East , Lady Gandhi .
ONE THING I LEARNT IN 2022 by Mayaa SH
One important thing that one has felt that is important to focus on is to navigate many people through stress .
The aim of mental health is to create the capacity to adjust in the individual.Thereby, mental health science is the means by which this adjustment is achieved. Mental health is defined as a person's sense of their own abilities, confidence that they can cope with life's stresses, work productively and make a contribution to his or her community. In this positive sense, it can also be believed that by fighting and winning the dilemma between stress existing in actuality and stress created by analysis by paralysis, a mentally healthy person can do any work well. Hence, great mental health is the foundation for the effective functioning of a community. Although it is a normal thing to experience tension in today's ups and downs life, but stress is a dangerous state of mind ,it is imperative to maintain a fine balance between a lifestyle and work.