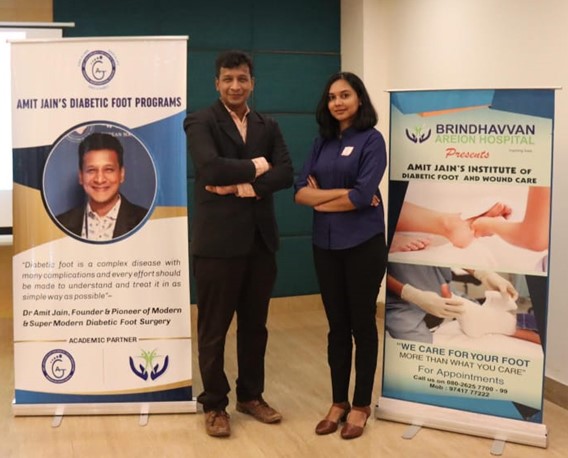 Diabetes has been one of the common chronic diseases that is affecting a large population in India and its incidence is increasing over years at rapid pace. One such complication of diabetes is diabetic foot which can result in amputation which is associated with many problems in life later.
Diabetic foot has been a neglected entity even in healthcare system. All though there are many reasons, some of the common reasons are that many healthcare professionals do not like treating it in view of constant foul smell and chronicity of problem including unfavourable outcomes. Further, not much is focussed on this entity in student's curriculum though it is a common problem in India, says Dr Amit Jain, a leading expert and authority on Diabetic foot from India.
In order to improvise and make diabetic foot interesting, Dr Amit Jain launched his show (The Amit Jain's Show) on 21st January 2022. This show is a unique state of art original innovative academic series on diabetic foot with many chapters within it, with " I love you….! being an interesting theme with humour and many of them are based on modern diabetic foot surgery system from India, states Dr Amit Jain. Most of the time, another expert who has done authentic work or publication on diabetic foot & wounds are invited to this show to showcase their work thereby giving opportunities to many who wants to showcase their original work.
Having seen its acceptance among doctors in his first few CME's, Dr Amit Jain subsequently launched "The Amit Jain's – Apoorva Show" which is the version 2 of the original show that is aimed further to teach different paramedic's including nurses, pharmacist, physiotherapist apart from doctors of different streams. With "The Amit Jain's Show" being unique and first of its kind in India, its version 2 "The Amit Jain's- Apoorva Show" also is unique wherein a Teacher and Student runs the event as duo, says Dr Apoorva, who shared her unique journey as one of the first Diabetic foot wound care Pharmacist in Asian Journal of Research in Medicine and Pharmaceutical Sciences.
This show is also done for public in a distinct way so that they understand about diabetic foot and preventive strategies and this show is best run-in auditoriums, Seminar halls nd large classrooms including smart classes of colleges in view of huge participations says Dr Apoorva, Consultant at Amit Jain's Institute of Diabetic Foot and Wound Care, Brindhavvan Areion Hospital.
Often one can notice that in different people shows, different personalities of their field are invited and a host talks to them and they have conversation about their life experiences. But in "The Amit Jain's show" and its versions, only about academic related teaching and presentations are done wherein audience learn on diabetic foot/wounds and take care of it. Another important and essential aspect of this show is that no association or promotion of any drug or companies is allowed in any part of the presentation or slide during teaching by any speaker and it should be only scientific and this what makes it 100% academic and unique, says Dr Apoorva, co-host of the show.
This show is under aegis of Amit Jain's project for diabetic foot and Amit Jain's charitable trust in collaboration with Amit Jain's Diabetic foot education unit of Amit Jain's Institute of Diabetic foot & Wound Care, Brindhavvan Areion Hospital and it has been conducted in various colleges and meet's in different part of state and south India and will expand further if opportunities comes as we want to cover as many people and zones as possible says Dr Amit Jain.
This is a show where creativity and fun shake hands with learning, says Dr Adithya Venugopal, who as an Assistant Professor had organised this show for benefit of his students at Faculty of Pharmaceutical Sciences, PES University, Bengaluru.
In view of it having humour along with learning, The Amit Jain's Show is now considered as "The Podollywood of diabetic foot"