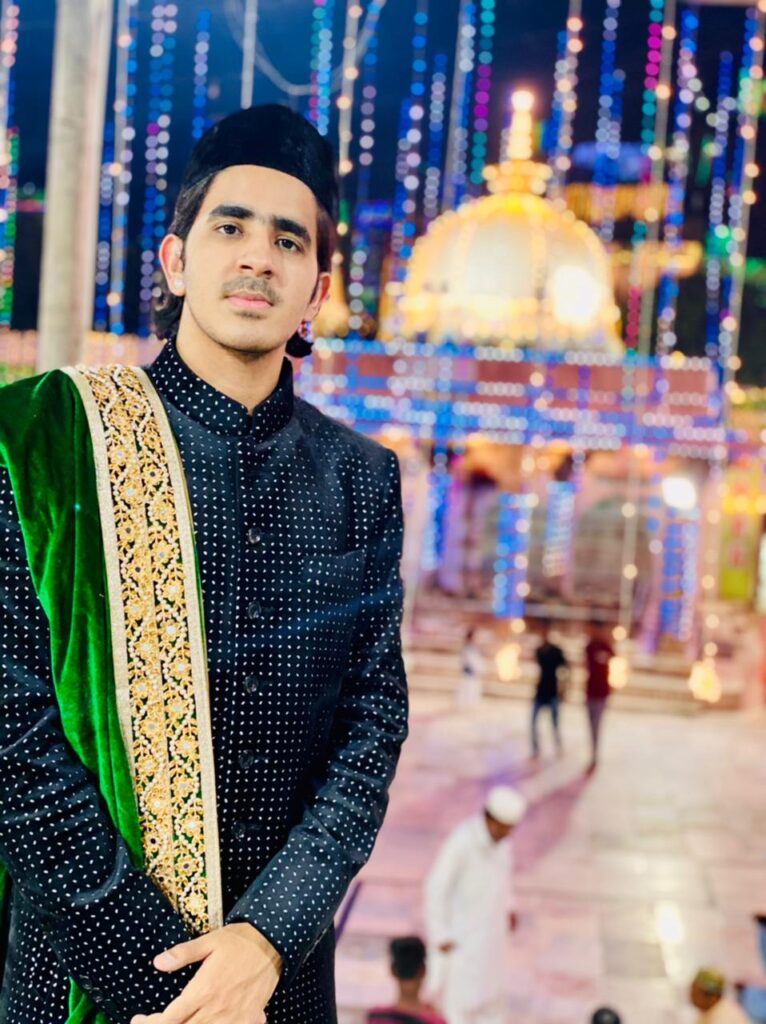 Syed Ali Dujana Gurdezi The Messenger Of Garib Nawaz & Gaddi Nashin And Key Holder, Centre Of Sufism, Ajmer Sharif.
Chishtiya Sufi Mission:-
A Humble 26 Generation Gaddi Nashin (Hereditary Custodains / Key Holder) of Sultan UI Hind Hazrat Khwaja Moinuddin Hassan Chishty (R.A) Sufi Shrine of Dargah Ajmer Sharif India. Sufi Shah Syed Ali Dujana Gurdezi is born on 18 April 1972 among the 'Syed-ul-Saddat' and Chishty Guedezi family of Ajmer Sharif' whose lineage goes back all the way to the Holy Prophet of Islam Hazrat SYEDNA MOHAMMAD (SAW). Sufi Syed Ali Dujana Guedezi is the grandson of Harzat khwaja Fakruddin Gurdezi who was khas khadim and Gaddi Nashin of (Hazrat Khwaja Moinuddin Hassan Chishty R.A) from past 800 Years. They are doing thier khidmat e Khalq (service) in darbar sharif.
Conveying his message he Says:-
Dear all, Garib nawaz (R.A), a great sufi saint of indian provision. The Holi shrine of this saint is visited by people of different caste, creed, and colour who visits here to fulfil their wisher desires and infact. It is true that nobody ever return empty handed from khwaja's darbar because of this the number of people visiting this holy shrine is increasing day by day. if we see we will find that this is great miracle that in this age where every house of ours is surrounded with less no respect for elders in children, selfishness is dominating like cancer our narrow subsistence is leading to a decrease in the graph of belief – there is trade without prosperity, property without satisfaction and all these had made the life miserable.
Dear all, there is certainly a relief for this domestic and social confusion and the treatment lies among the religious person (Sufis) such as Khawaja garib Nawaz (r.a) who preached the effective and proper way of treatment – living among humans they issued ways of treatment and reformation as preached and directed by Allah and if we follow them we can achieve peace of mind and soul in our lives and we can secure our inner and outside in this world and the world hereafter. so brother i khadim of huzoor gharib nawaz (r.a) we will suggest you to follow the message and mission of gharib nawaz (r.a) and if possible visit this holy shrine and spend few days over here.
Inshaalla your interrest and attachment with this darbar of allah's wallie will give you knew strength, power, courage to conquer both the world our keep in touch with me so that i may give you a helping hand in future and it is imaan that within few day you will see that you have achieve divine wealth of love, blessings, believe, confidence, peace of mind and soul.
Connect with them to know more about their journey & teachings –
Website: – www.Chishtiyasufifoundation.com
Instagram: – https://instagram.com/ajmer.khanqah_e_chishtya