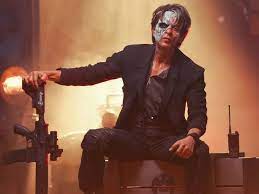 Bollywood's Badshah, Shah Rukh Khan, has once again proved his box office prowess as his latest release, "Jawan," achieves a monumental milestone by entering the prestigious ₹800 crore club at the global box office. The film, helmed by acclaimed director Atlee, has garnered immense praise for its captivating storyline and compelling performances.
"Jawan" features Shah Rukh Khan in a dual role, portraying the characters of Vikram Rathore and his son Azad. The movie delves deep into the emotional journey of a man determined to correct societal wrongs, making it more than just a typical action thriller. With this achievement, Shah Rukh Khan adds another feather to his cap, cementing his position as one of India's most iconic actors.
The film boasts an ensemble cast that includes the talented Nayanthara and the versatile Vijay Sethupathi in lead roles, further elevating its appeal to a global audience. In addition to these stars, "Jawan" also features special appearances by Deepika Padukone and Sanjay Dutt, who have added their own charm to the movie's storyline.
Manobala Vijayabalan, a prominent film trade analyst, shared the impressive box office figures on social media. According to his latest update, "Jawan" has grossed a staggering ₹800 crores worldwide, an accomplishment that underscores its widespread popularity. The film's success isn't limited to India alone; it has resonated with audiences across the globe.
In India, "Jawan" made a remarkable opening with ₹90 crores on its first day. The box office journey continued on a strong note, with ₹64 crores on day two, ₹93.5 crores on day three, ₹96.3 crores on day four, and ₹40 crores on day five. The film has consistently maintained its momentum, earning ₹31.2 crores on day six, ₹28 crores on day seven, ₹25.9 crores on day eight, and ₹23 crores on day nine. On the crucial second Saturday, "Jawan" minted ₹31.50 crores nett in India, as per early estimates, further solidifying its position at the box office.
The success of "Jawan" can be attributed not only to its stellar cast and direction but also to its thought-provoking narrative that addresses pertinent social and political issues. Shah Rukh Khan's portrayal of Vikram Rathore and Azad showcases his acting prowess, while Nayanthara and Vijay Sethupathi deliver performances that have resonated with audiences.
The film also boasts a talented supporting cast, including Sanya Malhotra, Priyamani, Girija Oak, Sanjeeta Bhattacharya, Lehar Khan, Aaliyah Qureshi, Ridhi Dogra, Sunil Grover, and Mukesh Chhabra, who have contributed significantly to its overall appeal.
"Jawan" is a production of Red Chillies Entertainment and is produced by the dynamic duo of Gauri Khan and Gaurav Verma. It is more than just a blockbuster; it is a testament to the power of cinema to engage and entertain while addressing critical societal issues.
As "Jawan" continues to create ripples at the box office, it reaffirms Shah Rukh Khan's enduring status as the King of Bollywood and reinforces the global appeal of Indian cinema.
Sources By Agencies