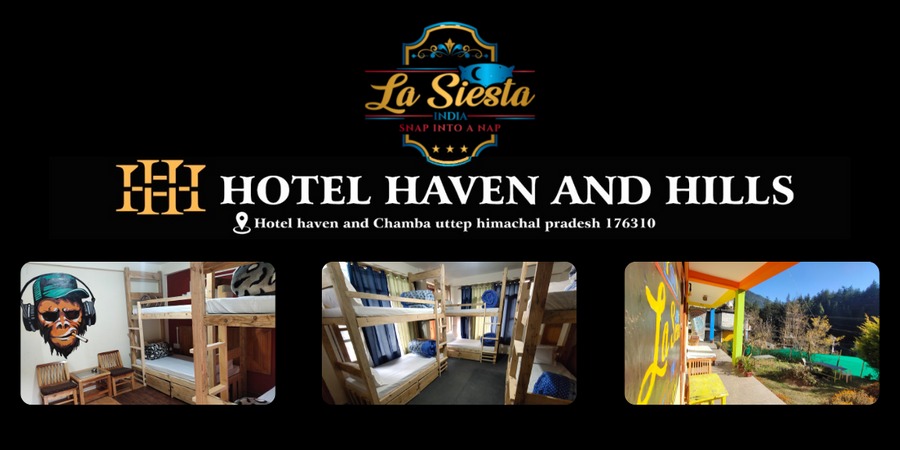 La Siesta Hostel, a Preferred Accommodation of the Backpackers & Travellers around the Manali & Chamba
"Opportunities don't happen. You create them, says Arjun Sharma – Founder of La Siesta group of Hotels and Resorts."
There's no better place to vacation during the winter than Manali, Himachal Pradesh. The most prestigious options offer winter activities like skiing, as well as other ways to have fun out of the cold. You can spend time with your family or group while still making time to find new friends. If you're looking for the perfect winter getaway, La Siesta Manali is the Best place. La Siesta Hostel is all about a whole new dimension of new invention, social travel accommodation and public spaces for all the age group.
La Siesta Hostel is set to be the Preferred Accommodation of the Backpackers & Travellers around the Manali & Chamba, & the resort offers Dorm Rooms & Private Rooms, In-house Cafe & Dedicated Workstation, High Speed Internet (Optical Fibre) including runs for every skill level. An array of facilities are available to guests at La Siesta Hostel, making us the ideal choice of accommodation for every discerning traveller on the lookout for a memorable hostel experience!
La Siesta Hostel is a chain of budget hostel in India, designed to cater to the needs of tourists who are constantly on-the-go! Equipped with a host of modern amenities, these hostel offer comfort and luxury without compromising on affordability.
They have recently introduced their new venture in Chamba, Himachal Pradesh, Hotel Haven & Hills. The hotel offers a restaurant, free private parking, a bar, and a shared lounge. In addition to offering room service, this property also includes a terrace. There is an indoor pool, evening entertainment, and a 24-hour front desk at the hostel.
Rooms at the hostel are equipped with a private bathroom and a desk, and some have a balcony with a lake view. Each morning, guests can enjoy an American breakfast at the accommodation. LA SIESTA INDIA CHAMBA – (HOTEL HAVEN AND HILLS) offers bike and car rental services, as well as diving and cycling in the area.
Famous amongst the community of backpackers and travellers, Manali is a high-altitude Himalayan town in India's up northern Himachal Pradesh state. Set on the Beas River, Manali stay is the home to 3.500 m-high Rohtang Pass with several mountain activities like Skiing, Zorbing, Cable Car travelling, Paragliding, along with the amazing local food from the local market are just a few of many exciting things you can do during your Manali stay.
La Siesta India Hostel Manali is the perfect place for the adventurer in you. Situated nearby the club house road Old Manali, La Siesta India Hostel Manali lies in the close tourist attraction to all the popular tourist spots, our backpacker hostel is the safest traveller hostel near the old Manali with an in-house restaurant and spacious parking area. With an open-air setup, our hostel faces the fresh-flowing river Manaslu, gives you a wake up to the sounds of nature. A best morning experience.
A Lifestyle Hostel with a trust. Enjoy your special benefits, dining offers, and wellness promotions drawing inspiration, a censorial experience amid hostel awaits with bold, Workstation area
La Siesta Resort, Offers Luxurious Accommodation, With Prime Comfort in the Heart of Heaven Manali, Delivering a comfortable lodging service, excellent quality in relation to its price, generating an unforgettable experience for our Guest
The fun doesn't stop there! The resort with a variety of Food and Activities. It's the perfect spot to take a break from the slopes. La Siesta Resort also hosts a variety of live music events for travellers to learn about the area and enjoy some fun away from the kids
You can make Booking on their website through https://lasiestahostel.com/ to book for your Slot today. With everything simplified for you, you can feel the value of your money at affordable prices