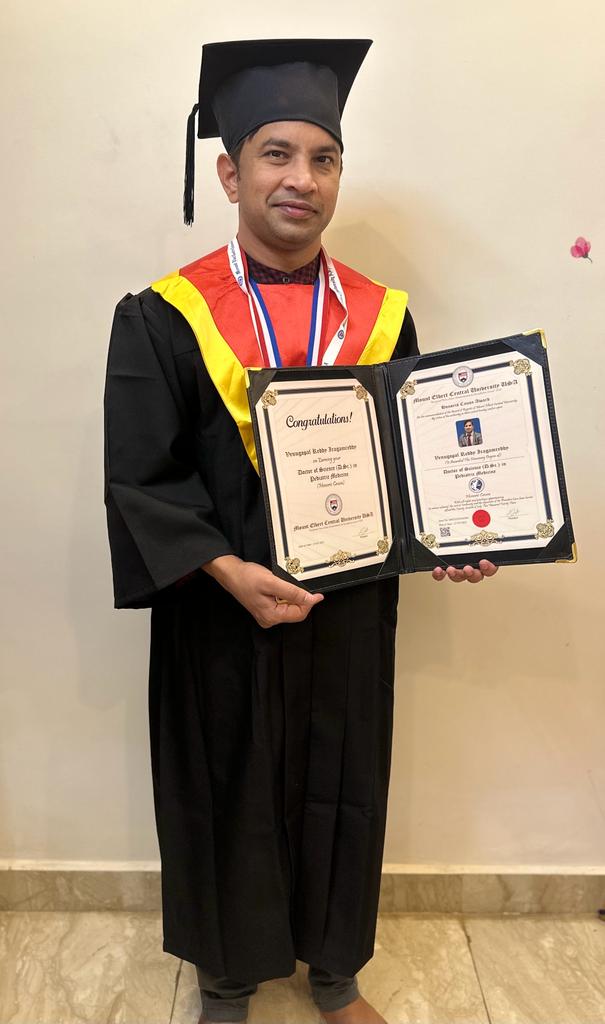 August 9, 2023
Mount Elbert Central University, USA.
In a momentous occasion, Dr. I. Venugopal Reddy, a distinguished paediatrician with a remarkable career spanning over a decade, has been awarded an honorary Doctorate of Science in Pediatric Medicine by Mount Elbert Central University, USA.This recognition comes as a testament to his unwavering dedication to the field of paediatrics and his exceptional contributions to patient care, research, and education.
Dr. Reddy's educational journey is a testament to his commitment to excellence. He completed his MBBS at Kurnool Medical College and subsequently pursued his passion for paediatrics by undertaking further studies at esteemed institutions worldwide. Notably, he achieved his DCH at Sydney University of Paediatrics in Australia and earned his MRCPCH from the Royal College of Paediatrics and Child Health in the UK. His thirst for knowledge led him to complete PGPN studies at both Boston University and Columbia University, enhancing his expertise in the field.
Dr. Reddy's areas of expertise encompass a wide range of paediatric specialties. His vast experience in General Paediatrics, Neonatal Care, Intensive Care, Growth and Development, Vaccination, Infectious Diseases, Adolescent Medicine, and Clinical Research highlights his comprehensive understanding of paediatric healthcare. His research prowess shines through in his 40 published articles in esteemed international peer-reviewed journals, as well as in the six paediatric-related books he has authored.
Over the course of his illustrious career, Dr. Reddy has made significant contributions to the field of paediatrics. Starting as an intern at Kurnool Medical College in 2008, he continued to elevate his role by becoming a resident in Paediatrics at Manipal Hospital, Bangalore, in 2010. His journey led him to Apollo Hospitals in Bangalore, where he served as the Paediatric Registrar in 2013. Simultaneously, he worked as a part-time Consultant Paediatrician at Sri Lakshmi Super Specialty Hospital, further expanding his influence in the healthcare landscape.
From 2014 to 2017, Dr. Reddy played a pivotal role at Srinivasa Specialty Hospital, Bangalore, India, as a Part-Time Consultant Paediatrician and In-Charge of Paediatrics. His leadership and dedication were evident as he managed and guided healthcare teams to deliver exceptional patient care. Since 2017, he has been the Medical Director and Consultant Paediatrician at Ovum Women and Child Hospitals in Bangalore.
The list of accolades attributed to Dr. Reddy is a testament to his remarkable achievements. In 2023 alone, he received the prestigious Doctor of Science award from Mount Elbert Central University, USA and the Dr APJ Abdul Kalam Health Care Award. His recognition extends beyond the medical community, as he has been acknowledged on Wikipedia pages including Wikita and Wikialpha. Other notable awards include the Garden City University Puraskar Award in 2022, the GE Healthcare Award, and the National Social Service Award.
Dr. I. Venugopal Reddy's journey in the field of paediatrics is an inspiration to aspiring medical professionals and a source of pride for the global medical community. His commitment to advancing the boundaries of paediatric healthcare, coupled with his dedication to patient well-being, research, and education, has rightfully earned him the esteemed honorary Doctorate of Science in Pediatric Medicine from Mount Elbert Central University, USA.
Dr. Reddy's remarkable journey in the world of paediatrics is a true reflection of his unrelenting passion and tireless efforts. His multifaceted approach to healthcare extends beyond his clinical expertise, as he actively engages in research and educational endeavors. Currently serving as the Editor-in-Chief of MAR Pediatrics, an esteemed international peer-reviewed journal based in the UK, Dr. Reddy's influence reaches not only his patients but also the broader medical community. Additionally, he serves as an Editorial Board Member for PriMera Scientific Medicine and Public Health, contributing his insights to the advancement of medical knowledge and practice.
The recognition bestowed upon Dr. Reddy is not only a result of his professional accomplishments but also a reflection of his commitment to humanitarian efforts. His National Social Service Award underscores his dedication to making a positive impact beyond the confines of hospital walls. Dr. Reddy's influence reaches far and wide, touching the lives of countless individuals through his medical expertise and compassionate approach.
His journey, however, is not solely characterized by accolades and accomplishments. Dr. Reddy's deep empathy and genuine concern for his young patients and their families have earned him a reputation as a beacon of hope during some of life's most challenging moments. His holistic approach to patient care emphasizes not only physical well-being but also the emotional and psychological aspects, setting a benchmark for paediatricians worldwide.
As he continues his journey in the realm of paediatric medicine, Dr. I. Venugopal Reddy remains an epitome of excellence, a trailblazer who constantly seeks to redefine standards in patient care, research, and medical education. His honorary Doctorate of Science from Mount Elbert Central University stands as a testament to his indomitable spirit, unyielding dedication, and profound impact on the field of paediatrics. The legacy he is building through his contributions will undoubtedly inspire future generations of medical professionals to push boundaries and reach new heights in the pursuit of better health for all.