Location: Mumbai, Maharashtra
In a resounding affirmation of artistic brilliance, Maitrry P Shah, a remarkable artist hailing from Maharashtra, has been bestowed with the illustrious Pillars of Maharashtra Award. The honor, presented by acclaimed actress Sudha Chandran, serves as a tribute to Maitrry's exceptional contributions to the realm of art, reflecting her profound impact on the cultural landscape of Maharashtra.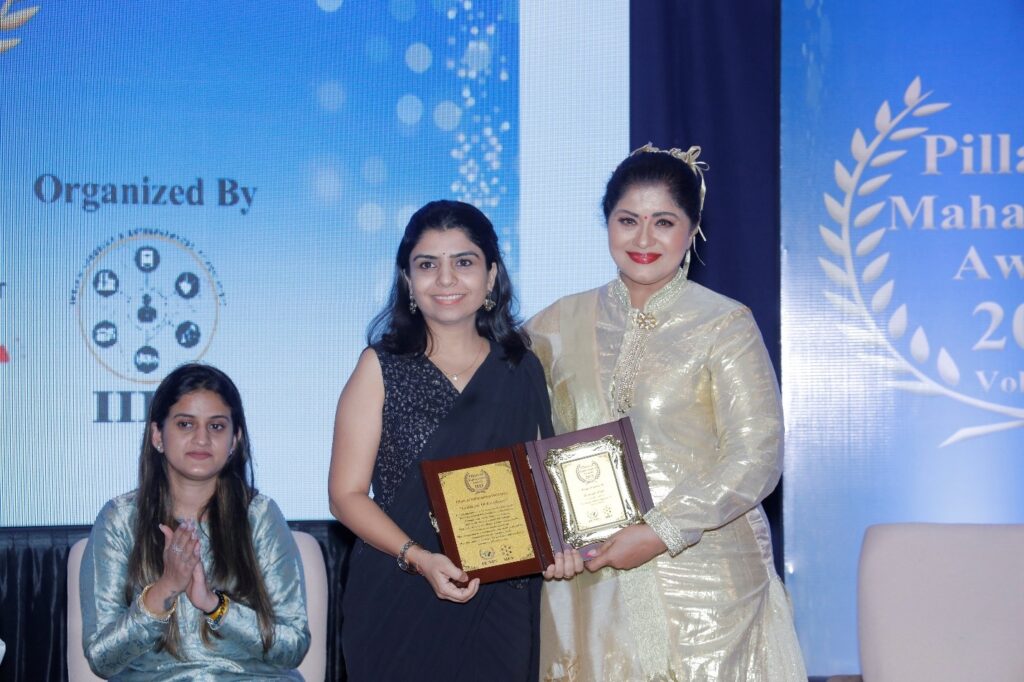 A Beacon of Artistic Mastery
The Pillars of Maharashtra Award stands as an emblem of recognition for individuals who have achieved remarkable distinction in their respective fields. For Maitrry P Shah, this accolade serves as a testament to her artistic virtuosity and her unwavering commitment to the propagation of art within the boundaries of Maharashtra. The award crystallizes the deep admiration and esteem she commands among her peers and the broader artistic community.
Maitrry P Shah's journey as an artist is nothing short of extraordinary. Her artistic signature seamlessly blends traditional elements with contemporary expressions, weaving a visual tapestry that resonates across generations. Drawing inspiration from the opulent cultural heritage of Maharashtra, her works are a reflection of her profound understanding of the state's history, its people, and their way of life.
A Symphony of Emotions Through Art
Maitrry's brushstrokes possess a mastery that captures the emotions of women, infusing her artworks with a deeply resonant narrative. Her creations have graced prestigious galleries and cultural events, captivating art aficionados with their evocative storytelling and enchanting aesthetics.
Beyond her artistic achievements, Maitrry P Shah has also emerged as a guiding light, nurturing artistic growth and cultivating young talents within Maharashtra. Through workshops, mentorship programs, and collaborations with educational institutions, she has actively contributed to shaping the next generation of artists in the state. Maitrry's commitment to art education and community engagement renders her an inspirational figure for aspiring artists across Maharashtra.
A Revered Accolade for a Visionary Artist
The Pillars of Maharashtra Award, presented by the esteemed Maharashtra Arts and Culture Association, honors Maitrry's visionary artistic perspective and her ceaseless endeavors in enriching the state's cultural tapestry. This prestigious recognition underscores her invaluable contributions to the realm of art, underscoring her steadfast dedication to enhancing Maharashtra's creative landscape.
Expressing profound gratitude, Maitrry P Shah extends her heartfelt appreciation to the Maharashtra Arts and Culture Association for bestowing this exceptional honor upon her. She also extends her thanks to her family, mentors, and the entire artistic community of Maharashtra for their unwavering support throughout her artistic journey.
As Maitrry P Shah continues to explore the boundaries of her artistic expression, the world eagerly anticipates the profound impact she will continue to make within the art sphere, both in Maharashtra and beyond.
About Maitrry P Shah: A Visionary Artist
Maitrry P Shah, an eminent artist from Maharashtra, is celebrated for her enthralling artworks that seamlessly blend traditional elements with contemporary expressions. Her creations have been showcased in numerous national and international art exhibitions, where they have garnered significant acclaim. With an impressive collection of awards, including three international awards, thirteen national awards (ten gold medals, two silver medals), and six state-level awards, she stands as a testament to artistic excellence. Additionally, holding a Doctorate in Fine Arts, Maitrry's dedication to her craft and art education continues to inspire and nurture the next generation of artists.