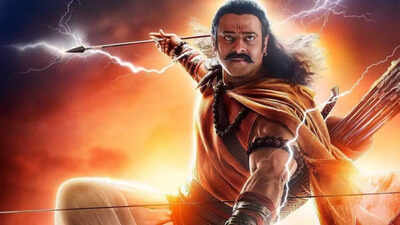 Adipurush, one of the most highly anticipated films of 2023, is generating immense buzz as its release date draws near. With just three days left until its premiere, fans are eagerly waiting to witness this epic cinematic retelling of the Ramayana. Directed by Om Raut and produced by Bhushan Kumar, the film stars Prabhas, Kriti Sanon, and Saif Ali Khan in prominent roles. The Central Board of Film Certification (CBFC) has certified Adipurush with a 'U' rating, and it boasts an approved runtime of 2 hours and 59 minutes (179 minutes).
As the film gears up for its release on June 16, Adipurush aims to secure the widest release of 2023. Early trends in screen bookings indicate that the film is set to hit approximately 4,000 screens in Hindi and over 6,200 screens nationwide, making it a major release in both 2D and 3D formats. Although the final screen count will be confirmed by Thursday noon, it is already apparent that Adipurush will be the year's biggest release in terms of screen presence.
Advance bookings for Adipurush commenced on Saturday evening, and within the first two days, the epic saga sold approximately 62,000 tickets for the opening day across three major cinema chains: PVR, Inox, and Cinepolis. For the Hindi version alone, the film has already secured 1.13 lakh tickets for the weekend. These impressive numbers position Adipurush to reach an estimated advance booking tally of 2 lakh 50 thousand tickets by Thursday night, placing it among the films with the highest advances in Hindi. Notably, Pathaan holds the record for the highest advance in the post-pandemic era with 5.56 lakh tickets, followed by KGF 2 with 5.15 lakh tickets.
Comparing Adipurush's advance booking figures with other films, it has outperformed Brahmastra, which had sold approximately 1 lakh tickets at the same point, and RRR, which recorded 1.05 lakh advance tickets in the three chains. The momentum for Adipurush's advance booking is even better than that of RRR in Hindi-speaking regions. If the film continues to maintain the same pace in on-the-counter sales on the day of its release, it is expected to witness an opening day collection ranging from Rs 25 to 30 crore in Hindi. Such an impressive start, especially on a non-holiday, bodes well for Adipurush, and its long-term success will rely heavily on positive word-of-mouth from the audience.
Although Adipurush doesn't have the advantage of the South Indian market due to its release in local languages, it has managed to surpass general expectations on the advance booking front. The film's success now hinges on delivering compelling content that lives up to the anticipation surrounding this universally beloved story of Ramayana. Adipurush has already surpassed the overall advance bookings of many prominent Bollywood films in the post-pandemic era, with the exception of Pathaan and KGF 2. Its journey to secure a spot in the top 10 highest advance bookings of all time has now begun.
As a film based on the Ramayana, Adipurush has garnered bulk bookings from underprivileged children, schools, colleges, and general audiences in metros and rural areas for educational purposes. The impact of these special bookings on the film's opening day business remains to be seen. Currently, the advance bookings are skewed towards national cinema chains, as many single screens plan to open on the day of the film's release, and mass-oriented regions are expected to play a significant role in the first-day box office collections.
With the perfect blend of a captivating storyline, stellar performances, and grand visuals, Adipurush has set the stage for a monumental box office opening. As audiences eagerly await its arrival, all eyes will be on the film's performance in the coming days, determining whether it can live up to the sky-high expectations and establish itself as a blockbuster hit.
Sources By Agencies